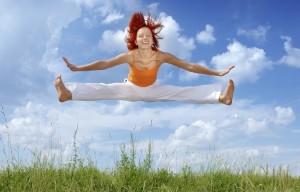 Exercise, as I'm sure you already are aware, is a vital part of Living Fit and Healthy. The five key aspects of exercise for a healthy mind, body and spirit are, stretching, aerobic, balance, strength and deep breathing. In this article I will cover these five aspects, as well as giving you example exercise regimes, which will help you form your own, that you feel comfortable with. Exercise comes in so many forms, that you will always find something that interests you and you feel comfortable with.
Stretching Exercises
The amount you stretch reflects how flexible you are. Stretching increases blood flow, to the different parts of the body. Stretching can be done, as an exercise in itself or it can be in conjunction with other exercises, such as aerobic exercises, balancing exercises and deep breathing exercises. Stretching can be done by itself, while sitting on the edge of your bed in the morning, in the shower before work or before your day (Perfect because your muscles have been warmed up by the water) or at your desk etc. Try to do at least 5 minutes of stretching each day.
Aerobic Exercises
Aerobic  exercise, which can sometimes be referred to as cardiovascular exercise, builds you endurance and improves your heart by pumping blood around the body faster than the normal steady rate, for an extended period of time. It also improves, lung -function, cholesterol, strengthens bones and is a Simple Step To Losing Weight.
The easiest way to do aerobic exercise is to go for a walk, jog or run.  Walking is a better option, for someone who has just started exercise, or has bad joints. As you always need to warm up before doing any exercise, start with a slow pace and after about 5mins, speed it up, to whatever level you feel comfortable. If you are already a little experienced, or feel it won't both your joints, then give jogging/slow running a go. A total of 30 minutes a day is the optimal length of exercise. Don't freak out if this seems too much to you, remember you can work up to this over a few weeks, and even spilt it up throughout the day. As I pointed out in my post, Simple Steps to Losing Weight, it doesn't necessarily happen overnight, but it can become part of your goals.
Balancing Exercises
The two things most people lose with age are their flexibility and their balance; this is why these two forms of exercise are so important. Exercises like yoga and Pilates are great ways to improve your balance, as well as improving your flexibility and strength. You don't need to necessarily go to any classes for this. You could just buy a book, jump on the web and look at yoga and Pilates moves. Or you can even just do stretching exercises before you start your day, which use your balance skills as well, such as a thigh stretch/hamstring stretch. This involves balancing on one leg, while stretching the other. Easy! Two exercise at once.
Strengthening Exercises
There are many types of exercise that strengthen your body. Resistance training is one; lifting weights, stretching with a thera-band, and doing push-ups, sit-ups etc. You can also try Yoga or Pilates, cycling and swimming etc. There are so many types that I can't list them all, but I have listed these, and more on my List of Exercises post.
Deep Breathing Exercises
Deep breathing along with the other four exercises I have talked about in this post, is vital for a healthy mind body and spirit. It can be done in the form of meditation, or in exercises such as yoga and Pilates. It's something that should be done daily and can also be done in conjunction with your balancing and stretching exercises. So here's how you do it;
Take a slow deep breath in
Hold this breath a few seconds.
Exhale the breath out as slow as you took it in
Do this up to 10 times in one sitting
This can be done at any time of the day and as many times as you like. It is also a simple exercise to do in a time of stress or frustration; to calm you body down and to gather your thoughts.
Click here for Example Simple Exercise Regimes, which you can chop and change to suit your own lifestyle.
Feel free to leave a comment or email me, if you want to know more.
 You can also check out our Twitter, Facebook and Pinterest pages.