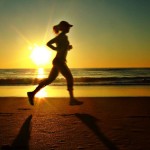 Why do you need to start exercising?  Are you trying to become more fit, build up muscle or just trying to lose weight?  You need to set this goal and set it strong to be able to start and continue with your exercising.
So what's the health benefits of exercising?
– Exercise, as I'm sure you're well aware of is a great way to burn off fat and build up your muscle mass. Building up your muscle mass keeps your body stable and helps keep off fat returning, that you've lost it from exercising.
– With regular exercise, your body will become strong and therefore function better. Your muscles get stronger and bigger but your insides also function better. Exercise improves the movement of oxygen and nutrients in your cells and organs and because of this, your waste removal improves.
–  Your blood flow is improved by exercising, which prevent many health problems which are usually associated with age.
– Keeping fit slows aging, improve memory, builds new brain cells and best of all, boosts your mood.
– With Cardio exercises, your lung function will improve your oxygen-carrying capacity, meaning that all of the above points I have mentioned about blood, cells,  muscles and organs will work.
So now you know why you should start exercising, start doing it! Go for a walk, a run, ride the bike that's been hidden away in the garage, lift some weights, , go for a swim or try something new, like Pilates, Yoga or martial Arts. Whatever your goal with exercise, make it fun and make it achievable. Exercise is a way of connecting with your body, mind and soul on its path to becoming stronger and healthier.
Don't forget to "Like" our Facebook Page and follow Eating Healthy & Living Fit on Twitter, and Pinterest, if you enjoyed this post.