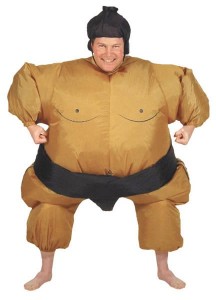 Don't want to look like a Sumo? Then keep reading.
Many people believe that if they skip breakfast, that they will have less food in their body for the day and hence lose weight. This weight loss theory is counter-intuitive. Skipping breakfast can actually make you put on weight.
When you wake up, your blood sugar level will be low and your body will need fuel to function properly. When you "Break the fast" you speed up your metabolism and provide your body with energy for starting your day. If you skip breakfast, your body will continue to have that craving for sugary or high calorie foods and snacks. You may also find that you are grumpier until you eat.
In hunter-gatherer days, if there was no food around in the morning, our body would slow down to conserve energy – our metabolisms would slow down. This therefore means that when you eventually do come to snacking or lunch, you will probably have a larger-than-normal meal portion and your body will process slowly.
Sumo Wrestlers purposly skip breakfast so they will put on weight. In 2003 a study found that "if you don't eat breakfast you are four and a half times more likely to be obese." If you want to lose weight and don't want to turn into a Sumo, then you should make breakfast part of your everyday, because it is the most important meal of the day! 🙂
Feel free to leave a comment or email me, if you want to know more.
 You can also check out our Facebook, Twitter and Pinterest pages.