Before any grocery shop, whether it is for food or not, you should always make a list. If you don't, you may be tempted to stray away from the real reasons you came to grocery store buy a lot more than you intended or even budgeted for.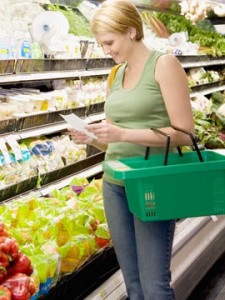 Making your Healthy Food Grocery List
You will need to work out what you are going to eat for your breakfast, lunch and dinners for the week. Be in the kitchen when writing your list because you can go through your pantry and fridge to see what you do and don't already have. Everyone's meal plan will look different, so it is not possible for me to write you a shopping list. My objective here is to give you examples of meals, of which can be transformed into a list for your grocery shop. You will need to take bits and pieces from this post and buy what you need according to your preferences.

BREAKFAST
Firstly what do you want for your Healthy Breakfasts? Here are some Ideas;
Porridge with nuts, fruit and honey
Cereal or Muesli with fruit
Wholegrain toast with avocado, lemon, salt and pepper
Scrambled or poached Eggs
Buckwheat Pancakes
Homemade smoothie
What would you need for these Breakfasts?
Cereal/Muesli/Porridge
Fruit – Bananas, berries, apples, pears, mango etc.
Eggs
Wholegrain bread
Avocado
Buckwheat Pancake mix
Milk (or Substitute, such as Rice, Almond, Soy or Oat milk)
LUNCH/DINNER
Next what do you want for your Healthy Lunches and Dinners? Here are some Ideas;
Salad with a protein (chicken or chickpeas)
Brown rice & Veggie Omelette
Phad Thai
Spaghetti Bolognese
Thai Chilli Chicken with Lemongrass and Cashew Sauce
What would you need for these Lunches and Dinners?
Fresh Veggies – Carrots, Potato, Sweet Potato, Pumpkin etc.
Frozen mixed veggies
Canned Food – Beetroot, corn, chickpeas, crushed or diced tomatoes
Onion & Garlic
Salads – Lettuce, tomato, cucumber, etc.
Proteins (Meat, Chicken, Fish or Vegetarian options) – Count how many serves of each, will you have in a week? Even if you're not a vegetarian, you should still always incorporate at least one vegetarian meal a week.
Pasta – Rice noodles and spaghetti
Sauces/dressings – Sweet chilli, tomato, soy sauce, balsamic vinegar, olive oil etc.
SNACKS
Once you have worked out the 3 essentials meals of each day, make a separate list for snacks and "naughty foods", which could include the following;
Organic mixed nuts
Organic Dried fruit
Dark chocolate
You will now want to group all these items into categories. This is because as you are walking through the grocery store, you want to try to cross things out in order, if you can. You're list should look something like this. Happy Healthy Shopping 🙂 Healthy Food Shopping List
MY GROCERY LIST

FRUITS:
Bananas, Berries, Apples, Pears, Mango, Tomatos, Cucumber, Lettuce

VEGGIES:
Carrots, Potato, Sweet Potato, Pumpkin, Frozen Veggies, Canned Beetroot, Canned Corn, Canned Chickpeas, Canned Diced Tomatos, Onion, Garlic

FRIDGE/DAIRY:
Milk (or Substitute), Eggs, Meat/Chicken/Fish

OTHER: Bread, Buckwheat pancake mix, Pasta, Sauces/Dressings, Organic mixed nuts, Organic Dried fruit, Dark chocolate
If you enjoyed this post and would like to see more, you can also find us on Twitter, Facebook, Pinterest and Instagram. Check our pages out, and don't forget to Follow us and Subscribe to our Newsletter, to keep up-to-date on Everything you need to know for Eating Healthy & Living Fit!