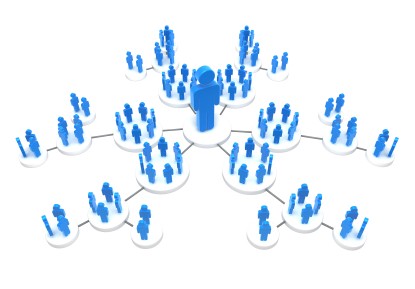 How to Build a Network?
Here are some simple tips to help you build your new network, for work, similar interest groups and friendships.
Join groups: Join a social, a volunteer or shared interest group. This is ideal for expanding your network. There are many places to find groups. You can find plenty of groups on the Internet  Do your research. You can also speak with people you already know, who are part of groups already, and maybe they can get you into the circle.
Meet people: When you're at a party, on the train, at a convention, or company/business lunch, aim to make some new contacts. If you'd like to, you can even set a goal for the end of the week or month for how many new connections you can make for your network.
Brand yourself for success: Ask yourself the following questions, "what would you think of you, if you met yourself?" "What would your first impression be of yourself?" "Are you dressed and groomed for the occasion?" If you answer these questions correctly, you will draw in the correct contacts/people.
Listen carefully: Wherever you go, listen to people. Be a good listener and soak up important information and interesting facts that will probably help you in the future.
Share your knowledge: Hear something that could be useful for someone else? Share it. If you share your valuable information with someone you know, they will return the favour.
Keep in touch: On a regular basis, you should be keeping in contact with the new people you have met. Call, SMS or Email them, just to stay in touch.
Be yourself: If you want build a proper network, you need to be authentic and honest, otherwise you're wasting your time and will be interacting with the wrong people.
Extra Tips:
– If you want to stay focused, don't do things like drinking too much to relax yourself. It can back-fire.
– If you need help remembering names, learn some simple tricks such as associating the new person's name with something or someone familiar.
– If you don't already have any, Personal or Business cards, get some printed to hand out.
If you have any questions, please don't hesitate to ask. Either write a comment below, or use the contact page to send us an email. Don't forget to Like our Facebook Page and Follow us on Twitter.