Winter Warmer – Pumpkin & Sweet Potato Soup

Print recipe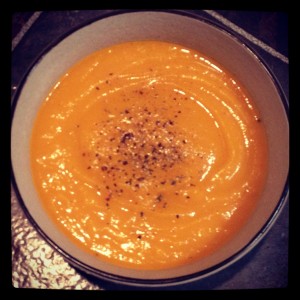 | | |
| --- | --- |
| Serves | 4-6 |
| Prep time | 20 minutes |
| Cook time | 1 hour |
| Total time | 1 hour, 20 minutes |
| Dietary | Gluten Free, Vegan, Vegetarian |
| Meal type | Soup, Starter |
| Misc | Freezable, Serve Cold, Serve Hot |
| Website | Eating Healthy & Living Fit |
1 white onion 1/2 butternut pumpkin 1 large sweet potato 1 large white potato 1 garlic clove 1/2 ginger root 3L water sprinkle cinamon, oregano, cayeon pepper Taste.com.au - 1st pumpkin soup recipe - cooking instructions
Ingredients
1 White Onion (Finely Chopped)
1 Clove Garlic (Finely Chopped)
½Butternut Pumpkin
1 Large Sweet Potato
1 Large White Potato
½Ginger Root
3 Litre (2 Pints) Water
1 Sprinkle Cinnamon
1 Sprinkle Dried Oregano (If you have fresh Oregano, use this instead.)
1 Sprinkle Cayenne Pepper
1 Deep Pot (For frying and cooking soup)
1 Blender
Directions
Peel/Chopping
Step 1.
Peel the Pumpkin, Ginger, White Potato (and Sweet Potato if preferred).
Step 2.
Chop up all the above ingredients into blocks (small enough to be blended - depending how powerful your blender is, but smaller pieces will be easier and quicker to blend).
Frying
Step 3.
Place the Chopped Onion and Garlic into the deep pot and fry until golden (for a sweet flavour). Then Turn off heat.
Blending
Step 4.
Now place some (Not All yet) of the ingredients above into the blender, with about 1 litre of water. Place the lid on and blend.
Once most is blended, add more of the ingredients and more water.
Keep doing this until all the Pumpkin, Potatoes and Ginger are in the blender and blended.

NOTES:
1. The recipe asks for 3 litres of water total, so do not go over the 3 litre water limit.
2. If you're running out of room in the blender, just pour the blended contents into the pot with the onion/galrlic, and then add more of the pumpkin, potatoes and garlic into the empty blender and keep going with the above instructions.

Boiling
Step 5.
Once all the ingredients have been blended, add them all to the pot, where the onion and garlic have been waiting and turn the heat back on, to boil.
Stir the ingredients every few mins and wait until it reaches boiling.
Now turn the heat down and let it simmer for about 30-45mins. Stir every so often.
Step 6.
Sprinkle some cinnamon, oregano, cayenne pepper into the pot and the soup is ready for serving!
Feel free to leave a comment or email me, if you want to know more.
 You can also check out our Facebook, Twitter and Pinterest pages.