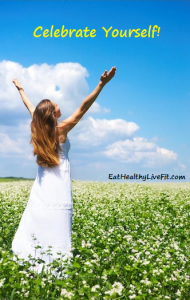 The biggest obstacle to positive living and success in life is self doubt. This voice inside every one of us makes us feel worthless and unimportant and prevents us from celebrating our own magnificent self. Too many people in today's era hide their feelings, are too afraid to stand out, to live loud and to generally enjoy life to its fullest.
Studies show that happy people are more secure and confident in who they are. They understand their mistakes and accept criticism graciously and strive to overcome their shortcomings instead of getting defensive about their failures. Everybody is worth celebrating, here are a few ways to show some love to yourself.
Take Out Time For Yourself
Separate a certain time of the day to focus just on yourself. Do what you enjoy the most. This would enable you to refuel and replenish your energy levels. Get a massage, make a bath, go shopping, read a book or just sit quietly in a corner and listen to your thoughts in peace.
Glam Up
Take care of yourself from the inside as well as outside. Dressing up for yourself is the ultimate pick-me-up for situations when one is feeling low. Looking good has been shown to give an upward surge to both confidence and mood. It is important to occasionally, make nourishing your body a priority.
Let Your Inner Child Out
Remember and revisit your childhood days. Be inquisitive, mischievous, and curious about life's happenings and the sweetness of those early days. Put up a picture in a common place to remind you of that time when you are feeling gloomy.
Embrace Your Passion
Happiest are the people who realize their dreams and goals and have the strength to pursue it. It is possible to achieve your passions only if you have the courage to stay focused and determined. Think about the creative activities that you used to enjoy in your youth when you had no responsibility.
Stay In The Company Of Positive Supporters
If you are with people who are constantly pressurizing and dragging you down then that would ultimately lead to killing your enthusiasm and energy levels. Be with people who have an optimistic view to life and the ability to lift up their surroundings. Take joy and pride, and exalt in the goodness of your positive attributes. It is time to cut loose those who instill negativity and self doubt within you.
Everybody deserves happiness in life. It is a part of the natural being to experience highs and lows. However, in these times it is vital to remember that life is the name for change and for that to occur we need to step out of our comfort zone. The more you praise and celebrate in life, the more there is in life to celebrate.
Still want to know more? You can also find us on Twitter, Facebook, Pinterest and Instagram. Check our pages out, and don't forget to Follow us and Subscribe to our Newsletter, to keep up-to-date on Everything you need to know for Eating Healthy & Living Fit!