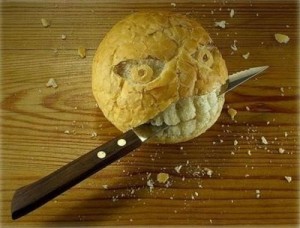 What would you spread all those delicious spreads on if you didn't have bread? You may love the regular wheat one or those 'healthy' wholegrain types, but the fact of the matter is – they're all more or less bad for your health. How, you may wonder. Simply because they're grains and grains, even processed ones, contain glucose (or high glycemic index) which increases the risk of developing Diabetes Type 2. Eating bread for breakfast or lunch may raise your sugar levels enormously, so why don't you grab a chocolate bar instead? Below are the main reasons why bread is bad for your diet – your everyday diet or the weight loss diet.
Bread also contains sugar. Yes, sugar. Not the glucose type, but the processed sugar that most bread manufacturers stir into the dough in order to make it sweeter and palatable. Now you've got two dangerous substances that you're best without.
Bread, especially store-bought one is packed with unnecessary ingredients which do more harm than well. If you buy bread, even from the healthy food section, you'll find a lot of additives, preservatives (to make it last longer), artificial colours (to colour it brown so that you think it's more natural and healthier) and artificial aromas so that when you smell it, you'll want to eat it immediately. Even if you make bread at home with whole grains, there's bad news. Today's grains are genetically modified to produce more in terms of amount and less in terms of nutrients, so either way, you're stuck.
If you ever wondered why you can't get rid of the excess fat around your belly, banishing bread is the solution. The only thing you give your body is more work to digest it and more work to get rid of it because it doesn't get anything nutritive from it. So basically, you give your body extra work for nothing. Maybe you're one of those people who cannot imagine their meal without bread, but the truth is – it's not at all hard to eat without bread. You just need to get used to it.
Some people fear banishing bread from their diets because they think they'll cut out fiber. Not true!! You'll cut down calories. You can get fiber from other sources such as nuts, fruits and veggies. So, if you feel full after eating even two slices of bread, think again – you're full of unhealthy ingredients, not fiber.
A lot of people today are hypersensitive to gluten. Gluten is present not just in wheat, but in other whole and processed grains such as barley, rye, spelt etc. and it has the ability to "glue" itself and makes the bread dough viscoelastic. Industrial bread is just a replacement for real food, tricking you into thinking you're eating well and healthy. Take another look at the reasons why bread is bad for you and think again and make the decision to permanently banish bread from your diet.
Still want to know more? You can also find us on Twitter, Facebook, and Pinterest. Check our pages out, and don't forget to Follow us, to keep up-to-date on Everything you need to know for Eating Healthy & Living Fit!