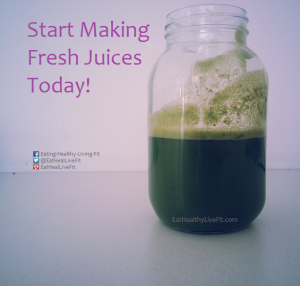 Who doesn't like freshly squeezed, heavenly-tasting, mixed, smooth and healthy fruit or veggie juices? It's like you've taken all of your favorite fruits and ate them all at once, only with juices, it's a liquid pleasure. The creations and combinations are endless, and the result is a healthier you, a happy and vital body and a clear mind. Basically, there's no reason why not to start making fresh juices, but there are many reasons why to do it. (Photo to the left is of a green juice I made one morning. Check out our Pinterest to see more pictures of the juices I have made!)
Fresh juice is exactly what it means – freshly squeezed by you at home or at the store, but one that is squeezed where you can see. Bottled 'fresh juice' may not be as fresh because it may contain more water and less freshness. Water's not bad either, but why pay more for less than the promised? Also, beware of supermarket fresh juices – usually, their freshness only refers to the production date. They contain additives, preservatives, sugars, concentrates and very little actual fruit or vegetable juice. If you don't like consuming veggies raw, this is a great way to make sure you're getting the necessary nutrients without resenting the taste. You can even mix them with fruits! Just make sure you wash everything well before you start.
Another reason is that the body will absorb the needed nutrients better than if you ate whole veggies and fruits. You stomach will take a rest from digesting fiber and you'll feel lighter as a result. You'll get more quality sleep, your skin will be radiant, with a nice, youthful glow and you may even lose weight. The point is not to live exclusively on juices because that may be harmful (unless you are doing it for a short period of time, such as a week or month); but to implement them in your everyday diet in order to balance it. Personally I like to enjoy a freshly made juice (using my slow press juicer) everyday.
If you juice everyday your digestive system will thank you and your energy level will go through the roof. If you haven't been consuming enough veggies and fruits, now is the time to start. There are many food enzymes, antioxidants, minerals and vitamins etc. which are all great for your health and immune system.
What better reason for drinking freshly squeezed juice than to make yourself feel good? When your energy level and overall health are just right, your whole body receives the message and starts projecting it onto your mood and happiness. You'll feel vibrant, joyful and full of life. Just don't forget to eat regularly and healthily.
If you make your own juice, you'll also cut on sugar big time (to clarify I am not talking about the natural sugar from the fruit, but the processed stuff). Sugar is mandatorily added to store-bought juices and by drinking them, you drink less natural juice and more refined sugars. Consuming natural juices is the only alternative if you want to lose weight because there are only natural sugars which are not harmful for your weight loss process.
Juicing is a lot of fun, but other than that, it can help you clear your mind and improve your focus. When good foods are eaten, the body cleanses from toxins and that's also true for your brain. You'll be more concentrated and less absent-minded. The benefits are really irreplaceable, so why not start making fresh juices today?
Still want to know more? You can also find us on Twitter, Facebook, and Pinterest. Check our pages out, and don't forget to Follow us, to keep up-to-date on Everything you need to know for Eating Healthy & Living Fit!