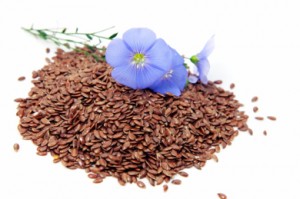 Flaxseed is not only a rich of healthy fats, fiber and antioxidants, umpteen studies have proved it to be miraculous way to lower the risk of diabetes and other heart diseases. Flaxseeds are flat, oval, glossy and pointed at one end and mostly grow in cooler regions of the world.  Here are some of the health benefits of flaxseed:
Maintains cholesterol:
Flaxseeds contain both soluble and non-soluble fibres which play crucial role in facilitating smooth bowel movement and reducing cholesterol level. It stimulates good cholesterol content by reducing bad cholesterol. Flaxseeds are not only effective in proper functioning of the intestines, also aid in minimizing the risk of cardiovascular issues. Including flaxseeds in your diet help in overall internal cleansing. Sprinkle a few spoons into your breakfast and experience the great effect
Promotes fertility:
Adding flaxseeds into your daily intake can give fertility a boost and improve overall health at the same time. This is recommended to women who are trying to conceive. It has the ability to balance female hormones and reduce pre-menopausal symptoms.
Controls blood sugar level:
Many studies have been undertaken to prove the importance of flaxseeds in controlling blood sugar level. It has been considered as a great aid in improving blood sugar level of people suffering from diabetes.
Protects against cancer:
Flaxseeds become a logical candidate for cancer prevention due to its antioxidants and anti-inflammatory properties. It contains lignans which help protect against cancer diseases. Studies also supported that these lignans may slow the growth of tumour cells. Thereby assist in fighting against prostate cancer.
Contributes to digestive health:
Flaxseeds gives you relief from constipation and other stomach aches without having any harmful side effects. It also helps in smooth absorption of nutrients and bring steadiness to the passage of food through our intestines. Theses flaxseeds have impressive benefits to offer for the digestive tract.
Prevents heart diseases:
A flaxseed rich diet act amazingly in reducing the risk of heart attacks, strokes and other heart diseases. It is not advisable only for those people who never had any of these problems, also for those who had been suffering from these serious diseases. Omega-3 fatty acids found in flaxseeds are low in saturated fats and Trans fats which treat heart diseases.
Reduces inflammation:
Flaxseeds also help in preventing asthma due to their richness in anti-inflammatory properties.
Quick Serving ideas
– Add ground flaxseeds into your hot and cold cereal.
– Sprinkle some ground flaxseeds onto your cooked vegetables to give it a nuttier flavour.
– Use tablespoon of flaxseed oil to smoothies to have healthy beverage.
– You can use flaxseeds in your homemade cookies, muffins and other munching recipes.
Still want to know more? You can also find us on Twitter, Facebook, and Pinterest. Check our pages out, and don't forget to Follow us, to keep up-to-date on Everything you need to know for Eating Healthy & Living Fit!