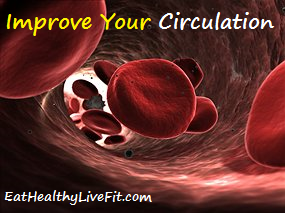 You might have noticed that your hands and feet fall asleep often that tingling sensation. Being crammed in the same position in a work cubical for hours when you work is the reason of poor blood circulation in the body. This in turn leads to swelling in lower legs, ankles and feet. This sedentary lifestyle is not at all good for a healthy life. So if you have some extra pounds and suffering from poor blood circulation issues- Get an ideal weight by a nutritious diet and exercise routine.
To increase the blood flow in the body, it is must that your body remains active. Sitting for hours on the same couch without moving around is the main cause of poor blood circulation. To get that blood pumping, follow these simple health tips:
Participate in physical activities: Get into a habit of going for a brisk walk. To decrease the poor circulation, it is highly advised to incorporate various physical activities in your daily routine. It may be spending time in workouts, going for a walk, exercising at home and even performing the daily household chores to allow oxygen to flow throughout the body more efficiently.
Relax and meditate:
Being overly stressed also leads to poor blood circulation in the body. Indulge in some breathing exercises which can make you relax. These activities can be done while you work on that spreadsheet. Meditation is an ultimate solution to ease out and give some respite to your body from life tensions. Listening to music is also one of the ways to calm down your mind. Overall…just slow down and loosen up.
Incorporate those healthy foods:
This is obvious what you take in, reflects outside your body. There are plenty of foods that contribute to the proper blood circulation in the body. Foods considered the best are: oranges, dark chocolates, sunflower seeds, Root ginger, garlic, water melon, salmon and avocados. These foods not only stimulate the blood flow but they also boost up the immune system.
Say no to smoking:
We know that you have tried every trick in the book to quit smoking but the idea here is to keep those blood vessels clear. Smoking jams up the blood flow in the body and gives you puffy ankles. To keep the blood reaching where it is needed, we expect you to help your body. You can do it!!
This time it's a yes:
If you do not suffer from any gastroenterological issues or hiatal hernias, go for spicy foods. It might be a surprise for you but spicy foods are super rich in vitamin A and C, they raise body's temperature which in turn increases blood flow in the body allowing it to circulate all over.
Still want to know more? You can also find us on Twitter, Facebook, and Pinterest. Check our pages out, and don't forget to Follow us, to keep up-to-date on Everything you need to know for Eating Healthy & Living Fit!