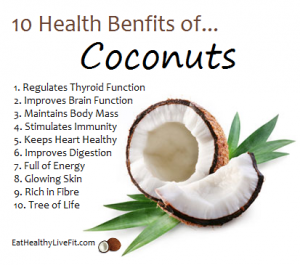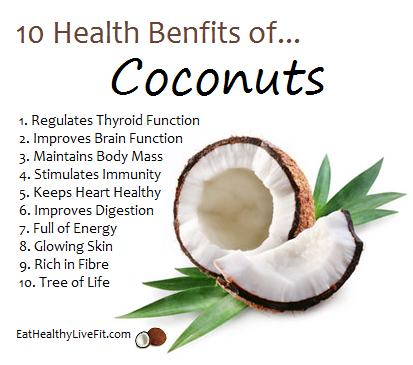 Coconut is highly nutritious and super-rich food vitamins, fibre and minerals. Here are the few wonders that coconut and coconut derived products do for you:
Keeps your heart healthy:
One of the most impressive benefits of coconut has to do with your heart. We have been strictly advised by various health experts to cut down a little on all fats and oils because they are considered bad for your heart health. But there is amazing news for you!! Coconut and coconut oil reduce cholesterol, thereby protect against heart diseases.
Super rich in dietary fiber:
Did you know that coconut supplies an impressive 61% dietary fibre? Yes it's true!! Coconut has remarkable benefits to offer to our body. Coconut contains non-digestive carbohydrates which mean NO calories are derived from it and it does not affect blood sugar.
Maintain body weight:
Coconut water helps you immensely if you are on weight loss spree. It is low in fat and drinking this refreshing beverage can make you feel full and reduce cravings. So if you are also health conscious, coconut water should be a must-have in your diet chart.
Get a supple and glowing skin:
If you have pimples or other acne problems, try hitting the aisles of coconut driven products in your grocery store. To maintain the youthfulness and lowering the ageing effects, coconut is highly preferred. Well, try and watch your skin glow!!
Improves digestion:
Coconut and its product also aid in improving digestion and work best to relive digestive and bowel disorders. They are also known as quick energy boost up and regulate absorption of other nutrients. It also supports the body to function smoothly by providing beneficial fiber.
Stimulates immunity:
This wonder food works wonderfully to boost your immune system. It not only helps to fight infections but also kill harmful bacteria which can have adverse effects on our body. Coconut oil is a great way to keep you at bay from colds and flu's during winter. It has also got dental connection. Studies have proved that coconut oil has the ability to decrease the number of harmful bacteria in your mouth.
Staves off memory loss:
Coconut foods can dramatically improve brain and lifts up the brain fog and helps you to keep your memory intact and young. It can help you to protect memory.
Still want to know more? You can also find us on Twitter, Facebook, and Pinterest. Check our pages out, and don't forget to Follow us, to keep up-to-date on Everything you need to know for Eating Healthy & Living Fit!