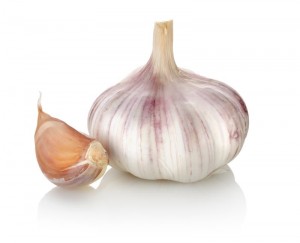 Garlic is enriched with various anti-bacterial, anti-fungal, anti-viral, anti-oxidant properties. It contains variety of biological useful chemicals, which are the reasons for its characteristics pungent odour. Many of us might not prefer using garlic when it comes to consuming because of the garlic breath. But before you dismiss it from your recipes, here is a list of health benefits of garlic that needs to be considered:
Deals with skin infections:
Garlic is most well-known for its property of fighting with skin infections. It has been considered an effective cure for warts, athlete's foot, ringworms etc. Even garlic oil is used to have a smooth and rash-free skin. This 'Cure-for all' herb also increases antioxidant levels of skin and body. It also helps in maintaining blood flow which leaves a natural glow to your skin.
Fights with hair problems:
It must be surprising but it's true that garlic is an excellent herb which enhances hair texture. It has been scientifically proved that garlic is helpful for hair growth and reinforces the hair roots. If you are worried with hair loss problem, your search is over. Garlic removes harmful toxins from scalp and thereby decreases hair fall. This wonderful herb is also used to treat dandruff and itchy scalp.
Reduces blood pressure and cholesterol:
Various excellent properties present in garlic aid in reducing the blood pressure and prevents the formation of blood clots in the body. It has also the ability to reduce cholesterol level of the body which in turn helps the body to function properly.
Aids in weight loss:
These smelly little pods also help in your journey of losing weight. Everyone wants to have a flat board tummy, but a mere thought of following that strenuous health regime put us down. But this small herb helps you to shred those extra pounds.
Protects from various diseases:
Garlic helps in protecting our heart from various heart diseases. Evidence has already shown that garlic cures diarrhoea, protects from cancer, and treats diabetes. Garlic's antibacterial properties can soothe you from toothache.
Prevents cuticle infection:
The benefits of garlic are not just limited to skin and hair, it also aids in getting rid of dull and yellow nails. It helps in preventing cuticle infection and considered helpful in getting strong nails.
Careful tips to use garlic:
– Never use microwave for preparing any of the home remedies because it kills the present allicin in the garlic and eliminate any health benefits.
– It is advised to carefully use this strong antioxidant because excessive use can lead to blisters and rashes.
– It is always recommended to go for a patch test to ensure that it does not cause any reaction.
– These skin and hair remedies mentioned above are not advised for people who have sensitive skin.
Still want to know more? You can also find us on Twitter, Facebook, and Pinterest. Check our pages out, and don't forget to Follow us, to keep up-to-date on Everything you need to know for Eating Healthy & Living Fit!