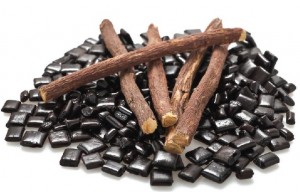 Do you feel craving for something sweet or  chocolate after dinner? Try Licorice tea, or other foods contained this delicious herb. Besides busting your sugar cravings, it is an excellent source of iron. Licorice is a perennial plant whose roots are crushed and boiled to extract the juices. This herb is used widely all over the world in many treatments and home remedies. Besides being delicious, it offers several health benefits such as:
Heals gastric disorders and stomach ulcers:
Licorice has miraculous healing ability to treat gastric problems and ulcers. It has been a popular traditional treatment to treat the cause of ulcers and promotes healing. It contains flavonoids which are known to kill bacteria that cause most ulcers and other stomach aches. It helps in improving the health of stomach lining and prevents damage from stomach acid. Licorice herbal tea is one of the most effective ways to treat gastric disorders.
Ultimate treatment for bronchitis:
Licorice works in the same way that an expectorant would. And it has various positive effects when treating bronchitis. It aids in breaking down the mucus build up, allowing it to flush off easily from the body. If you really want to get out of that miserable soar inflamed throat, try licorice tea. This herb is enriched with antiviral and anti-bacterial properties which offer therapeutic benefits to bronchitis patients. Due to its anti-inflammatory properties, it also reduces any kind of swelling caused by bronchitis.
Relives from menstrual cramps:
Licorice contains a natural source of estrogen which regulate the menstrual cycle. It can sooth you from painful symptoms of menopause or cramps. Tea made from this herb is often advised to sooth the uncontrollable pain.
Licorice-Natural skin care treatment:
There are many skin care products that can calm down the facial redness and relax you from irritated skin. But Licorice has proved to be an excellent solution to brighten/lighten the skin naturally. Whatever skin lotion you choose, make sure that licorice shows as an active ingredient on the label. If you really want to go natural, just prepare a paste of licorice powder with aloe Vera gel and apply all over the face for approx.15 min. And you will see that redness or inflammation will go in no time.
Note For Usage of Licorice:
– Not recommended for pregnant women and infants
– High doses of licorice products must be taken only after consulting healthcare practitioner.
– Individual suffering from heart problems, hyper-tensions and liver diseases may have adverse effects.
– Excessive use of licorice may cause high blood pressure, muscular aches, headaches, lethargy and other undesirable problems.
– Always consult your doctor before undergoing any herbal treatment.
Still want to know more? You can also find us on Twitter, Facebook, and Pinterest. Check our pages out, and don't forget to Follow us, to keep up-to-date on Everything you need to know for Eating Healthy & Living Fit!