In the Eating Healthy & Living Fit Vegetable and Herb Garden, is a Mass of Silverbeet, so I decided a new recipe was in order to utilise all the lush Silverbeet, that was growing.
Silverbeet Chickpea Corn Tomato Warm Salad (or Stew)

Print recipe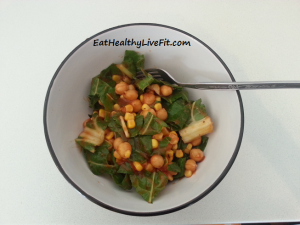 | | |
| --- | --- |
| Serves | 2-4 |
| Prep time | 5 minutes |
| Cook time | 5 minutes |
| Total time | 10 minutes |
| Dietary | Diabetic, Gluten Free, Vegan, Vegetarian |
| Meal type | Lunch, Main Dish, Salad |
| Misc | Child Friendly, Serve Hot |
| Website | Eating Healthy & Living FIt |
Ingredients
3-4 leaves SIlverbeet (Chopped or Shredded)
1 can Chickpeas (or fresh is available)
1-2 cup Crushes tomatoes (pureed)
1 can Corn (or fresh of the cob)
1 Medium Pot
1 heaped teaspoon Coconut Oil
Optional
2 cups Hot Water (If making the stew option)
Directions
Warm Salad Option
Step 1.
Put the Heaped teaspoon of coconut oil in the pot, put on medium to high heat and add chickpeas, corn and tomatoes. Heat these up together.
Step 2.
If you are doing the salad option, then all you need to do is heat up the above ingredients.
Step 3.
Place the silverbeet into a bowl and add the heated ingredients above into the bowl with the silverbeet.
Stew Option
Step 4.
If you want more of a stew option, then add the water, stir up the ingredients and once the water is almost boiled, add the shredded/chopped silverbeet.
Step 5.
Cook until preferred consistency is reached. If you need to add more water then add some and if it's too watery, boil and let some of the water steam off.
Serving
Step 6.
Whichever option you choose, that are both very simple and tasty. Just serve either of them up into a bowl and enjoy!
Love this recipe and want more? You can also find us on Twitter, Facebook, Pinterest and Instagram. Check our pages out, and don't forget to Follow us, to keep up-to-date on Everything you need to know for Eating Healthy & Living Fit!