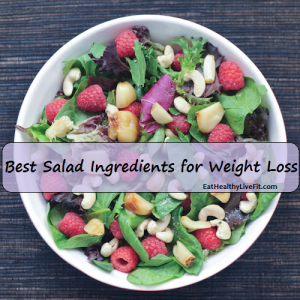 The best salad ingredients are sometimes difficult to pick, especially if you want to lose weight. A typical salad consists of vegetables, a dressing, some meat and some bread cubes, but this kind of salad is not at all healthy and helpful with weight loss. There are many other alternatives to making a really nice, tasty, fresh and healthy salad and lose weight along the way.
In many salads, there's avocado added. It's rich in monounsaturated fat that makes it useful and healthy and it doesn't contain cholesterol. You can use it in salad dressings. The recommended amount is 2 tbsp.
Nuts are also rich in the good kind of fat and they can make any salad or salad dressing taste lovely. They maintain a healthy appetite and you can either serve them crushed in the salad or add them to a healthy dressing. They also contain minerals and fiber. Recommended amount is 1 tbsp.
Adding fresh bellpeppers (Capsicum) to your salad will make it even healthier and the pounds will shed even faster, because eating the proper foods is the first important factor in weight loss. They contain vitamin C and A. Eating them raw can meet all your daily needs for these vitamins. Add ¼ cup to your salad and you're good to go.
If you eat them, then eggs are rich in protein and can be an inevitable part of every salad. ½ boiled egg is just enough for your salad to have this extra protein amount needed.
Carrots are an excellent antioxidant rich in beta-carotene. Add ¼ cup to your salad and your chances to be protected from heart diseases and dangerous diseases will be a lot bigger.
Broccoli and cauliflower are great vegetables that should be added to any salad for their fiber, vitamin C, phytochemicals etc. that keep your body away from cancer. 1/3 cup is the recommended amount for your salad. You can chop these up finely and add them raw!
Cranberries, especially dried ones are another excellent choice for your weight-loss salad as they contain vitamin C and they protect you from urinary infections. Add 2 tbsp to your salad.
Dark leafy greens and vegetables should added to many salads for its nutrients. Spinach and other similar green vegetables are also in this group. 2 tbsp is a great amount for any salad.
Tomatoes have lycopene – a natural protection from prostate and other kinds of cancer. They also contain vitamin C and A and the best amount to add is 1/3 cup.
Beans in every form such as black beans, chickpeas, kidney beans etc. have a lot of protein, fiber and folate and they're a great add to any salad. 1/3 cup will make your salad tasty, protein-rich and weight loss friendly.
Always opt for fresh, natural ingredients when you prepare salads and keep the dressings low-fat and low-calorie. If possible, make your own dressings from natural and healthy fresh ingredients (as oppose to store bought, pre-made dressings).
Still want to know more? You can also find us on Twitter, Facebook, Pinterest and Instagram. Check our pages out, and don't forget to Follow us, to keep up-to-date on Everything you need to know for Eating Healthy & Living Fit!