Earlier this year our Vegetable patch was FULL of Zucchinis. We made lots of creations but this was one of our favourites.
Zucchini and Chickpea Salad

Print recipe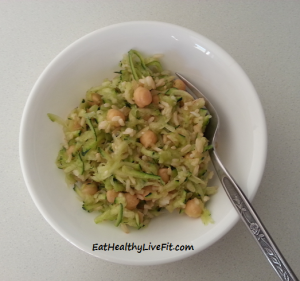 | | |
| --- | --- |
| Serves | 2-4 |
| Prep time | 5 minutes |
| Cook time | 25 minutes |
| Total time | 30 minutes |
| Dietary | Diabetic, Gluten Free, Vegan, Vegetarian |
| Meal type | Lunch, Main Dish, Salad |
| Misc | Child Friendly, Serve Cold, Serve Hot |
| By author | Eating Healthy & Living Fit |
Ingredients
3 Medium Zucchinis
1 can Chickpeas (Or Fresh is even better!)
2 cups Brown Rice
1.5 heaped tablespoons Coconut Oil (or Olive if you don't have Coconut - But you should still purchase some:))
~4 cup Water (For Boiling the Rice)
1 Large Mixing Bowl
Serving Bowl(s)
Directions
Preperation
Step 1.
Shred, grate or even spiralise Zucchini (RAW)
Step 2.
Rice off the Chickpeas Thoroughly if from a can.
Step 3.
Cook the brown rice, with your preferred method. Either boil up the rice, or use absorption method, using the 4 cups of water.
Mixing Together
Step 4.
Mix the Zucchini, chickpeas and cooked rice together, into the mixing bowl.
Step 5.
Now Add the coconut oil (or olive oil).
Eat Up!
Step 6.
Serve up into a smaller bowl. Enjoy!
Love this recipe and want more? You can also find us on Twitter, Facebook, Pinterest and Instagram. Check our pages out, and don't forget to Follow us, to keep up-to-date on Everything you need to know for Eating Healthy & Living Fit!