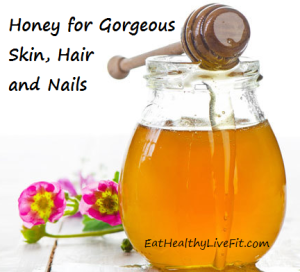 Mother Nature has all types of natural cosmetics in her pantry for you with numerous benefits for the skin and body. Why use store-bought, when you can have all-natural, organic and nutrient-packed cosmetics for a fraction of the cost? One of the amazing gifts of nature is honey – an elixir of youth and health often used in many cosmetic products. Its benefits can be applied to your hair, nails and skin and leave them healthy and radiant. Here are some ways to use honey for beauty.
Moisturizer. Honey is known for giving your skin deep moisturizing due to its ability to draw humidity from the environmental air and place it into the skin. This way, it makes sure your cells get more than enough hydration that'll last for a long time. To moisturize, grab a spoonful of honey and spread it on your face (or parts of the body) and let it sit for 15 minutes. Rinse with lukewarm water.

Scrub. Honey, mixed with a little bit of organic baking soda, can act as a facial or body scrub, gently removing dead cells from the skin surface. Honey and its enzymes will make sure to feed and moisturize the skin, while baking soda will help the exfoliation. To make a scrub, mix 1 tbsp baking soda with 2 tbsp honey and rub this mixture on the desired area. Rinse with lukewarm water.

Spa treatment. Adding 2 tbsp honey to your bath will make for an amazing spa experience. Prepare for a soft, moisturized skin from your very own at-home spa treatment.

Hair conditioner. For dull, dry and damaged hair, honey is the number one solution. Mix it with 2 tbsp coconut oil and rub the concoction on the damaged parts of the hair (most often the ends), working your way up to the roots. The hair should be slightly damp before applying. Let the mixture absorb for 20 minutes and rinse.

Cuticle moisturiser. Your nails can benefit from honey too! Mix 1 tsp honey, 1 tsp coconut oil and 1 tsp apple cider vinegar. Rub this on your cuticles and let it sit for 10 minutes. Rinse well.

Acne reduction. Honey can help reduce acne because of its anti-bacterial and anti-fungal properties. Just a tiny amount of honey applied with the top of your finger to the problematic area can help calm the irritation, itchiness and redness. Let it sit for 15 minutes and wash.

Hair highlighter. If you want to make highlights without damaging your hair with chemicals, call honey for help. On a damp and clean hair, apply 3 tbsp honey mixed with 2 tbsp water. Apply on hair and let it sit for 1 hour. Rinse. Apply once a week for best results.

Anti-scar treatment. Honey can make scars less visible by applying its anti-inflammatory properties to the spot. Mix 1 tsp honey with 1 tsp olive oil. Apply to the scarred area and massage gently. After 2 minutes, place a hot cloth over the spot and let it cool. Repeat every day until you notice improvement.
Still want to know more? You can also find us on Twitter, Facebook, Pinterest and Instagram. Check our pages out, and don't forget to Follow us, to keep up-to-date on Everything you need to know for Eating Healthy & Living Fit!