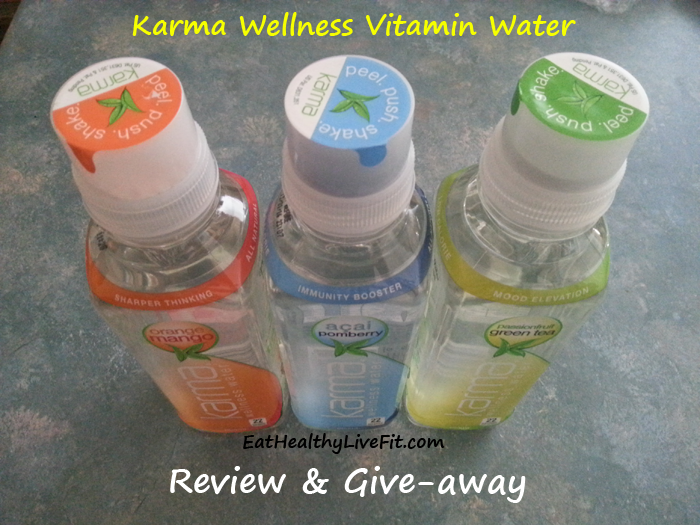 I recently tested out Karma Wellness Water in 3 flavours – Acai Pomberry, Orange Mango and Passionfruit Green Tea. [Give-away at the end of the post!]
When you first look at the bottle, the water is clear, as no vitamins have been mixed into the water yet. Each bottle is equipped with "KarmaCap technology". Unlike other vitamin waters, the vitamins are separate from the water, until you are ready to drink. This is beneficial as some of the nutrients can be lost if the vitamins are premixed in the water for weeks, or months or longer.

Steps for preparing and drinking;
1. PEEL back the sticker on the cap.
2. PUSH the button to release the vitamin powder into the water.
3. SHAKE the bottle to desolve all the vitamins in the water!
4. TRANSFORM the water into vitamin water.
The powder desolves quite quickly into the water once shaken, changing the colour of the water. They also taste pretty good.
Each 600mL Bottle contains;
– Vitamins A, B3, B6, B12, B5, C, D and E.
– Filtered Water
– Lots of Flavour
They are non GMO, Low in sugar, Gluten Free and Lactose Free.
GIVEAWAY!!
If you'd also like to try these 3 bottles of Karma Wellness Water for FREE, then enter the give-away below. You will receive a box in the mail, like the one in the photo below;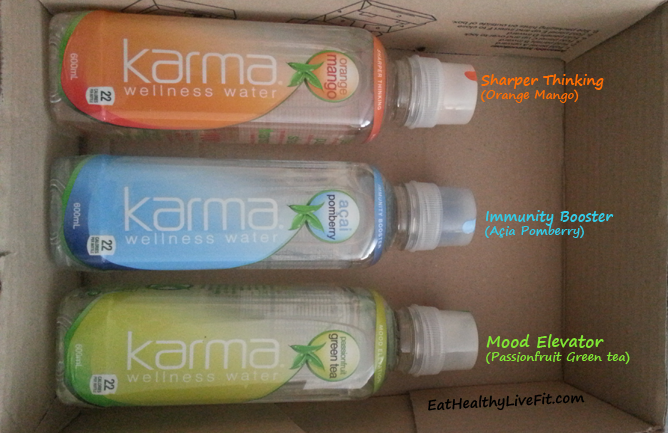 To Win our Karma Wellness Water Give-away:
1. LIKE Eating Healthy & Living Fit on Facebook.
2. SHARE this post or any of the Photos used in this post, using the Hashtag #karmwellnesswater, on Facebook, Twitter, Pinterest and/or Instagram.
Bonus Points;
3. SUBSCRIBE to our Mailing List.
**Open to Australian residents only. Entries close Midnight Sunday 8th November 2015.
There are 2 prize packs available. The winners will be notified via private message or email.**
You can also find us on Twitter, Facebook, Pinterest and Instagram. Check our pages out, and don't forget to Follow us & Subscribe to our Newsletter, to keep up-to-date on Everything you need to know for Eating Healthy & Living Fit!