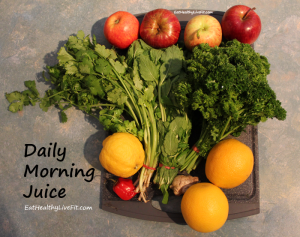 Today I'm introducing you to our Daily Morning Juice. It is a very nutrient dense, spicy and flavourful juice.
This juice recipe is a modified version of the "Lemon Ginger Blast" by Lou Corona.
So here are the ingredients – Serves 1-2 (Click to Enlarge Photos):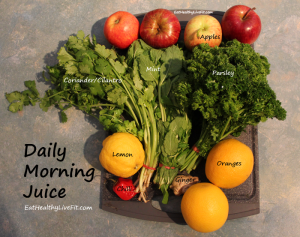 -Half Bunch Coriander/Cilantro
-Half Bunch Mint
-Half Bunch Parsley
-4 Apples
-1 Lemon
-2 Oranges
-Thumb Ginger
-Half Habanero Chilli
Here are the Steps (Check out the video below for full ingredients and instructions!):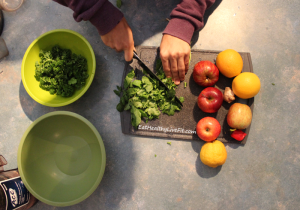 First you'll need to chop up the greens (Coriander/Cilantro, Mint & Parsley) a little. This just helps the juicer, juice these with ease.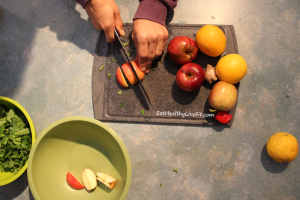 Now you need to chop up all the fruit etc.
(Apples, Lemon, Oranges, Ginger, Chilli)
Now you are ready to juice your ingredients. We have a slow press juicer, which is the best kind if you want to press out as much nutrients as possible, from the fruit/veg/green fibre. High speed centrifugal juicers are quick, but they do not produce the same quality juice. They produce very fluffy, aerated, less nutrient dense juices and do not separate the juice from the fibre anywhere near as efficiently as a slow press juicer.
Once all the Greens and Fruit have been juiced, you need to add a third (of the final juice volume) of water to the juice. This needs to be done to dilute the spiciness and help with the digestion of the juice.
Once diluted, pour your freshly made juice into a glass or jar (depending how big it is).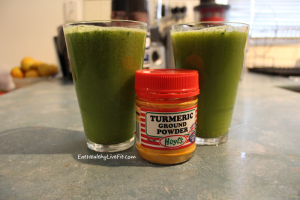 Now add the final ingredient, which is Turmeric. Stir half to a full teaspoon into your glass/Jar of juice.
Turmeric has awesomely crazy good health benefits. Having Turmeric everyday is a great idea if you want to keep healthy.
Here is a video of the juice being made, from chopping to serving up – Including Tips and Tricks. ENJOY!
If you enjoyed this recipe post and would like to see more, you can also find us on Twitter, Facebook, Pinterest and Instagram. Check our pages out, and don't forget to Follow us and Subscribe to our Newsletter, to keep up-to-date on Everything you need to know for Eating Healthy & Living Fit!