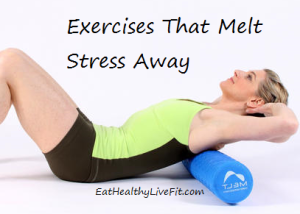 Stress is a common problem in today's society. Some people use relaxation techniques, such as meditation and breathing and some choose to exercise it away. Here are some effective exercises that'll make stress go away in a second.
Cardio exercises. Cardio engages the heart and the cardiovascular system to burn more energy and calories. It's an active way of working out. Some of the most popular cardio exercises include: running, aerobic, high-intensity gym exercises etc. Doing cardio just 20 minutes a day can make your heart healthier and you less stressed, because of the endorphin (good mood hormone) release. You'll also sleep better.

Tai Chi. One effective Tai Chi move is the cloudy hands. Place your right hand in front of the body and the left next to it. Keep the palms facing outwards. Now bring your left arm on the place of your right arm and vice versa. Sway with your arms back and forth. You'll feel stress saying goodbye.


Cross-body stretching or Seated Twist. Sit on the floor and place your legs in front of you. Place the left leg over the right so that the foot will be close to the knee. Turn the body to the right and stretch well. Repeat with the opposite leg and side. Repeat 10 times.

Shake. Nope, not a milkshake – this exercise is about shaking every bit of your body in order to loosen up. Shaking your arms, legs, head and moving your core in every direction gives your body a good reason to get rid of stress and tension.

Reach for the stars. For this move, you should stand with a straight body. Then hang your head down; rise up and place your arms behind you. Swing them towards the ceiling, as if you're reaching for the stars. Lift your head towards the ceiling as well. Go back to straight position and repeat at least 10 times.

Brisk walking. Brisk walking can be a very useful form of exercise and won't tire you very much if you're feeling under the weather. Find a route nearby, find a partner if you can and go. Move as fast as you can and keep your arms to the sides of your body at a 90 degree angle at the elbows. They shouldn't be loose in order to keep the balance. It's best to find a shorter route so that you can repeat the walk on your way back. Take a break between the walks.
If you enjoyed this post and would like to see more, you can also find us on Twitter, Facebook, Pinterest and Instagram. Check our pages out, and don't forget to Follow us and Subscribe to our Newsletter, to keep up-to-date on Everything you need to know for Eating Healthy & Living Fit!