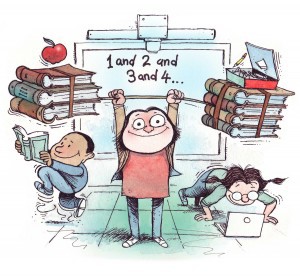 Many children today would rather sit in front of the TV or computer or play with their mobile phones all day long and of course, this doesn't count as physical activity. Then, there are kids who like to exercise, play sports or just be physically active, regardless of the kind of activity. Well, according to a new study, these kids will grow up to be smarter than their non-active peers. Namely, Laura Chaddock-Heyman decided to conduct a study to explore this at the department of psychology at the University of Illinois. She found out that physically active children are more cognitively prepared than children who don't work out. Alongside cognitive, these children are more likely to develop superior language skills as well as math and reading.
This research is still not confirmed though – Bonita Marks, the director of Exercise Science Teaching Lab at the North Carolina University at Chapel Hill says that it is not very clear how the brain is affected in the long run. The research focused on the white matter in the brain responsible for brain region communication, so the scanning performed on the children showed different white matter in the fitter kids. This only means better brain regions communication. Chaddock-Heyman says that this is due to increased blood flow that comes as a result of exercise, so there's more oxygen flowing to the brain.
Megan Herting, a fellow at the division of research on Children, Youth and Families at Children's Hospital of Los Angeles thinks differently. She states that even children who are obese have different brain scans than their non-obese peers, so it is really unclear if the difference comes from 'fitness' or 'fatness'.
The next step of this research would be to observe the brains of children who perform physical activities in special exercise programs in order to follow the changes that happen during and after this period, according to Chaddock-Heyman.
This study first appeared in the Frontiers in Human Neuroscience journal, in August of 2014.
If you enjoyed this post and would like to see more, you can also find us on Twitter, Facebook, Pinterest and Instagram. Check our pages out, and don't forget to Follow us and Subscribe to our Newsletter, to keep up-to-date on Everything you need to know for Eating Healthy & Living Fit!