You may think that you are keeping your yourself clean but are you cleaning or even replacing these everyday clothing items properly?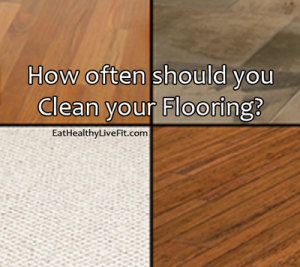 Floors
CLEAN: With Wooden, Carpet, Tiled or Laminate Floors, you should vacuum to removes an larger particles, such as crumbs, hair and even particles you can't necessarily see (such as microscopic dust particles), but are move around every time you walk near or on them. This should be done every week, to avoid nasties growing as well as preventing allergies.
Moping should be done every 1-2 weeks, or basically every time you vacuum.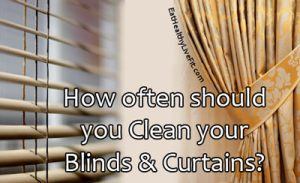 Blinds/Curtains
CLEAN: Blinds and Curtains should be dusted and cleaned, for the reason as your flooring. The dust can create allergies. If you can, clean your blinds/curtains just before you vacuum/mop your floors (every 1-2weeks) so that any dust that falls off your blinds/curtains, will then soon be removed off the floor by the vacuum.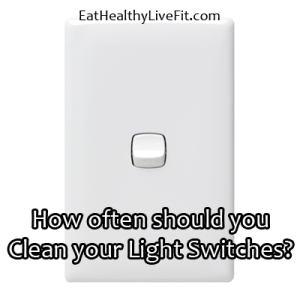 Light Switches
CLEAN: Light switches should be cleaned every 1-2 weeks to remove germs that have been spread by everyone touching them. Simply take a anti-bacterial wipe and walk around the house and wipe all the switches. Don't spray them with any products as they are electrical and you don't really want and dampness or liquid getting into the mechanism.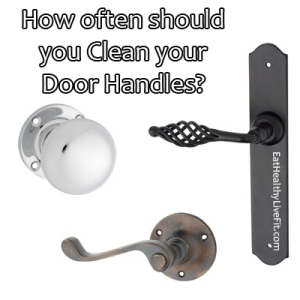 Door Handles
CLEAN: Door handles are every where in your house and these should also be cleaned every 1-2 weeks to remove germs. As with light switches, you can clean them with anti-bacterial wipes. For more dirtier handles, such as in the kitchen, you can spray and wipe them clean.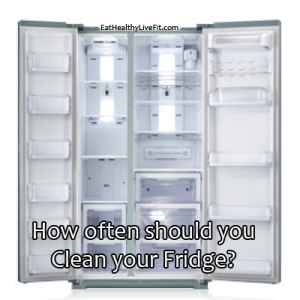 Fridge
CLEAN: Outside of the fridge should be spray and wiped every 1-2 weeks to remove germs near the door handle, as well as removing finger marks and stains on the front of the fridge.
Inside the fridge can be cleaned every month. For some, it may need to be cleaned more often, if you store items that may leak or leave scraps behind, such as condiments and fresh-produce. Remove all the item from the fridge, clean off any sticky or leaking bottles, spray and wipe down all the surfaces in the fridge and then put all the food/condiments back into the fridge that you took out. If you persitently have to clean off a particle shelf due to sticky or leaking bottles or produce, then an easy suggestion is just to put a dish or plate under this item to catch any of the mess, so that you can clean the dish more often and the fridge less often.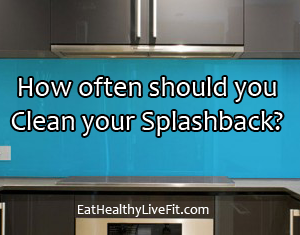 Splashbacks
CLEAN: Splashbacks can build up germs and grime quite easily. Water and food particles from using the sink fly onto the splashback and stick. Oil and food spatters from your stove top build up on your splashback. These should be cleaned as regularly as you give your sink [LINK] a proper scrub. In other words, you can clean it every time you use the stove or sink, or if you don't need to clean it that often, then every week should be fine.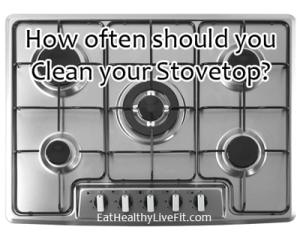 Stove Top
CLEAN: Your Stove-top should be given a quick wipe down every time you use it, even if there is no apparent mess. There may be water stains and oil spatters that you can't see. For more messy cook spillages, make sure to clean these up straight after your cooking is done, as you don't want them to dry up and be impossible to clean up later. Just make sure you don't touch the electric or gas burner, as it will still be hot.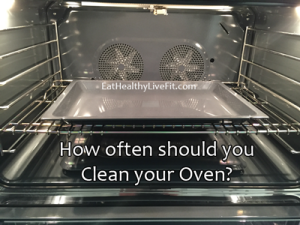 Oven
CLEAN: The inside of your oven probably needs to be clean the least often of everything in your kitchen. If your food is not constantly spilling over the edges of a baking tray and falling into the electric filament or gas fire cavity, then cleaning your oven can be done every month to every 3 months (every season change – as simple rule of thumb and an easy way to keep track).
The outside of your oven, on the handle and glass door, can be cleaned every 2 weeks, to remove germs, stains and finger marks.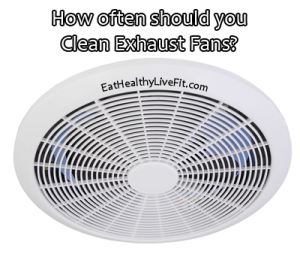 Exhaust Fan Covers (Kitchen and Bathrooms)
CLEAN: Your exhaust fans in your home should be cleaned twice a year, or seasonally (4 times a year) if you prefer. Bathroom/Toilet exhaust fans collect dust and spider-webs. These need to be removed to assist the fans function of removing smells or and steam. Kitchen fans and range-hood fans, will also have dust and spider-webs in them, but they will also have oil build-up that needs to be removed.
To clean the covers, first remove them and take them outside. Now wipe off any webs and dust that has built up. If there is any oil build-up as well then this well need to be cleaned off with a soapy solution. You can fill your bathroom or laundry sink with water and hand or dish soap. Using gloves and a already dirty sprung, clean the cover in the sink of soapy water. Allow to dry and then place the fan cover back in its place.
If you would like to give your bathroom fans a quicker clean, then use your vacuum cleaner without the normal head fitting. If you have a brush head fitting, then that will work great.
NOTE: while your have the cover off, you might as well give the fan itself, a bit of clean, to also remove and spider-webs or dust.
If you enjoyed this post and would like to see more, you can also find us on Twitter, Facebook, Pinterest and Instagram. Check our pages out, and don't forget to Follow us and Subscribe to our Newsletter, to keep up-to-date on Everything you need to know for Eating Healthy & Living Fit!