You may think that you are keeping your house clean but are you cleaning or even replacing these Bedroom items properly?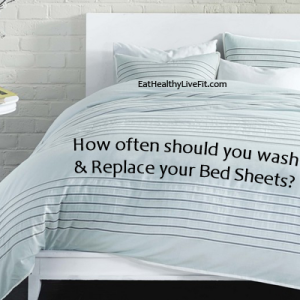 Bed-sheets
CLEAN: Who doesn't like getting into bed, with a fresh set of sheets?! That's because all the energy and dirt and potential dust mites have been eradicated. Your bed-sheets should be changed AT LEAST once a week.
An even better way of remembering to change your sheets, is every time you wash your hair, which may be a couple or more times a week. This also enhances the fresh bed-sheets experience even more, when you finally go to bed that night.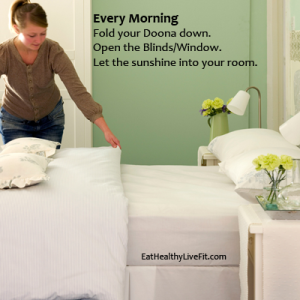 On another note; yes we have always been trained to make our bed in the morning, but did you know that that is the kindest thing you could do for dust-mites. They love the dark, warm and sweaty bed, you've just make for them and you've even gone to the trouble of tucking them in. STOP THIS HABIT NOW! No one likes dust-mites! Once you have left your bed in the morning, fold down your doona/bed-spread to the foot of your bed, and open your blinds to let as much of the sun in to shine on your bed. Dust-mites don't like the sun, and they will die off.
In between changing your sheets, you may also like to put your doona/bed-spread (without any covers on it) on the washing line outside, so it can also get sun on it, in-case there are any dust-mites lurking in there too.
CLEAN: Another sheet is your mattress protector. This should be washed every 3-6 months.
REPLACE: As with other house-hold items, such as bathroom towels and tea-towels, Bed sheets can be replaced when "needed". i.e. when they are ratty or overly stained or fading from general use.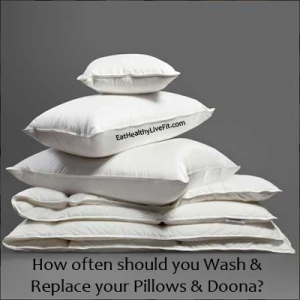 Pillows & Doonas
A lot of people don't think to do this, but you have to admit that if you don't wash your pillows or your donna, or even buy new ones on a regular basis, it's pretty gross. Think about all the sweat, drool, dead-skin and other nasties including faeces and 16 species of fungi, that seep into your pillows/doona over time. I mean, did you know that 1/3 of the weight of them is made up nasties, that weren't there when you bought your pillows of doona? Ew!
CLEAN: You should machine wash your pillow/doonas (at a warm/hot temperature if you can), every 3 months.
REPLACE: You should probably reaplce your pillows completely every 2-3 years. Some pillows have a date on them, recommending a change over date. Doonas could probably be replaced every 5 or so years. Both Pillows and Doonas wear out over time, so it's not just about cleanliness, it's also support and comfort.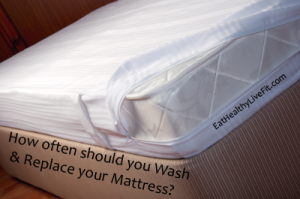 Mattresses
REPLACE: Every 8-10 years, you should change your mattress. I've said it in a few of the previous sections of this "clean your house-hold" series, that there are so many nasties that build up in your bedding. When you change your sheets, you can leave the bare mattress alone, for as long as your donna/bed-spread is enjoying the sun, on the washing line (which you should do on a regular basis too), to give the dust-mites another excuse to run away.
A portion of the weight of mattresses, just like with your pillows and doonas/bed-spreads, is made up of nasties.
Another good reason to change your mattress regularly is just for the simple fact that over time, it wears out and doesn't support your back, neck and hips like it once did. This goes for all types; spring, 100% latex and memory foam mattresses.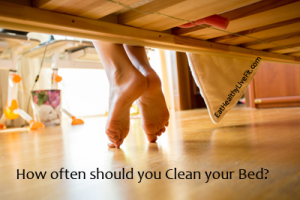 Bed
CLEAN: Around, on and under your bed should be dusted, and vacuumed every week, as with the rest of your house. Because most of the day/night the air is still in your bedroom, dust and mites like to settle on surfaces around and under your bed.
When you sleep, you want to breath as easily as possible so you can rest as deeply as possible. So don't forget to clean your bedroom thoroughly every week, along with changing your sheets weekly.
If you enjoyed this post and would like to see more, you can also find us on Twitter, Facebook, Pinterest and Instagram. Check our pages out, and don't forget to Follow us and Subscribe to our Newsletter, to keep up-to-date on Everything you need to know for Eating Healthy & Living Fit!