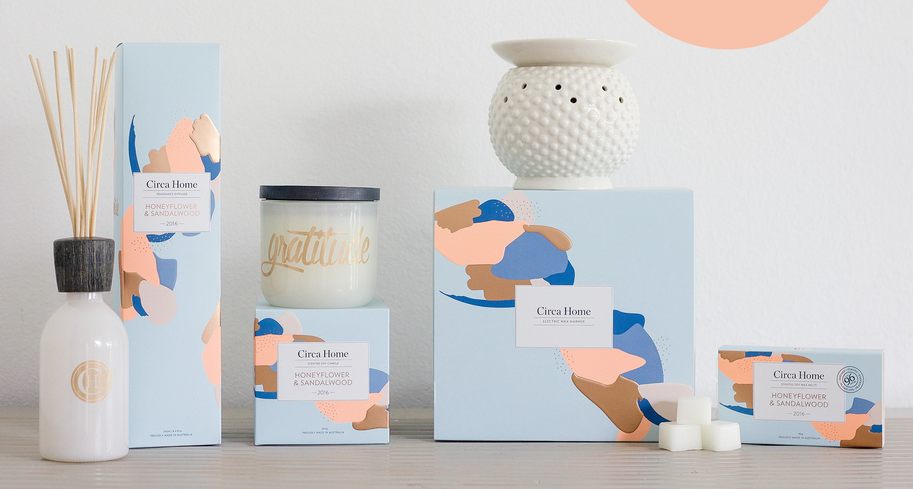 This week, I'm reviewing the Circa Home Honeyflower & Sandalwood Classic Candle, and Gratitude notepad. That also means GIVE-AWAY TIME!!! The Give-away is brought to you by Nuffnang and Circa Home.
I was very excited to receive the package in the post today. The candle came in a beautifully designed baby blue box along with a cute gratitude notepad, as you can see below.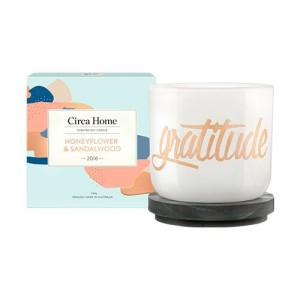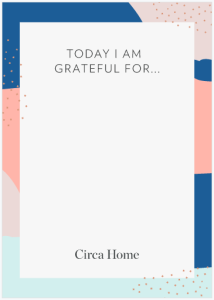 The candle has a stunning smell, of Honeyflower and Sandalwood. Sandalwood is a great essential oil for inducing clarity and calmness, due to its therapeutic benefits. It doesn't just smell nice, it has a great effect on your overall well-being and mental health!
Each candle has been handmade in Australia using natural soy wax, high quality fragrant oils and uses lead-free cotton wicks. The glass jar and packaging are 100% recyclable. The lid can used as the base of the warm candle.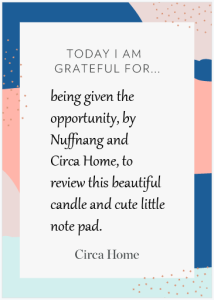 Here is an example of me using the "Today I am grateful for…" notepad. "Today I am grateful for being given the opportunity, by Nuffnang and Circa Home, to review this beautiful candle and cute little note pad."
Here is a free download of the "Today I am grateful for…" Postcard, if you would like to note what you are grateful for today.
GIVE-AWAY TIME!
Circa Home are giving you too, the opportunity to try out their beautifully smelling candles and other candle products. If you would like to win a Circa Limited Edition Gratitude Gift Pack, then head over to their competition page to enter.
Here's what you could win;
Honeyflower & Sandalwood Classic Candle
Honeyflower & Sandalwood Fragrance Diffuser
Honeyflower & Sandalwood Soy Melts
Limited Edition Electric Wax Warmer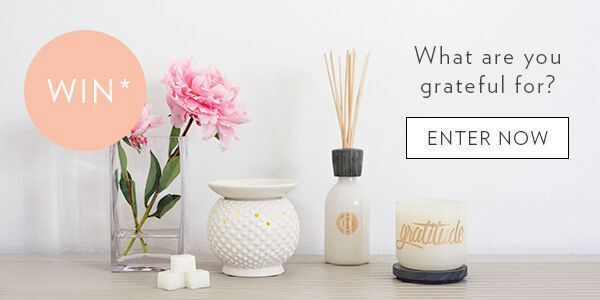 If you enjoyed this review + give-away and would like to see more, you can also find us on Twitter, Facebook, Pinterest and Instagram. Check our pages out, and don't forget to Follow us and Subscribe to our Newsletter, to keep up-to-date on Everything you need to know for Eating Healthy & Living Fit!