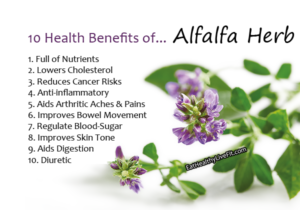 Alfalfa means the "The Father of All Foods" in Arabic, as it is very nutritious. Whilst growing, its large root system collects an abundance of Vitamins and Minerals from the ground/soil it grows in.
As this is a medicinal plant, you should always consult your health-care practitioner, when choosing to use it as a herbal remedy.
Alfalfa Herb's Health Benefits include;
1. Full of Nutrients
Alfalfa is packed full of nutrients. It contains vitamins, such as Vit A, Vit C, Vit E and Vit K. It also contains Minerals, such as Calcium, Iron, Phosphorus and Potassium. Alfalfa also contains other nutrients that are vital to the body, such as Fibre, Amino-Acids & Protein and Digestive Enzymes.
2. Lowers cholesterol
Alfalfa has been shown to block the absorption of LDL (Bad) Cholesterol levels into the gut.

3. Reduces cancer risks
It has been documented that Alfalfa helps bind carcinogens in the colon, thus assisting in faster evacuation of the toxin from the colon and out of the body.

4. Anti-inflammatory
As Alfalfa contains Anti-inflammatory properties it can be used in treating conditions such as Gout, Arthritis, Peptic Ulcers, Liver problems and even particular type of Cancers.

5. Aids Digestion
Indigestion, Gastritis, Pains, and Nausea and be aided with Alfalfa. It can also stimulate the appetite.

6. Diuretic
Kidney and Bladder functions can be improved by Alfalfa, acting as a diuretic (increasing urine flow). Alfalfa can rid kidney stones, by dissolving them, as well as preventing them in the first place. This can also help with urine function, down the line.

7. Aids Arthritic Aches & Pains
As a herbal remedy, Alfalfa has been used around the world to assist with Rheumatoid Arthritis and Osteoarthritis pains. This would be partly due to Alfalfa's Anti-Inflammatory properties.

8. Regulate Blood-Sugar
Alfalfa regulates blood-sugar, as it lowers glucose in the blood-stream. If you have any diabetic issues, it can be beneficial but levels should be monitored.

9. Improves Skin Tone
The Chlorophyll in Alfalfa has great healing properties for the skin. It can be detoxify the skin and rid it of bacteria. It is also full of Vitamin A and enzymes which are essential for healthy skin, including preventing dry skin.

10. Improves Bowel Movement
It has been known since the 1700's that Alfalfa has been useful in treating Bowel Problems. This is due to its bowel movement improving power as it has a slight laxative effect.
If you enjoyed this post and would like to see more, you can also find us on Twitter, Facebook, Pinterest and Instagram. Check our pages out, and don't forget to Follow us and Subscribe to our Newsletter, to keep up-to-date on Everything you need to know for Eating Healthy & Living Fit!