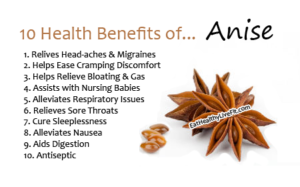 As this is a medicinal plant, you should always consult your health-care practitioner, when choosing to use it as a herbal remedy.
Anise's Health Benefits include;
1. Aids Digestion
Anise aids a few digestive problems, including Nausea, Vomiting, Diarrhea, Pains, gas and gastritis. It also can be used to stimulate the appetite.
2. Alleviates Respiratory Issues
Anise has expectorant properties, meaning it assists with expelling things, such as phlegm from the throat, chest and lungs. This is the reason why Anise is great for alleviating Respiratory Issues.
3. Helps Ease Cramping Discomfort
Menstrual, as well as intestinal cramps can both be relieved with Anise. This is because of the anti-spasmodic properties that is has.
4. Helps Relieve Bloating & Gas
As mentioned above, Anise can assists with digestive problems, including Bloating and Gas.
5. Assists with Nursing Babies
Nursing mothers can use Anise to enhance lactation, and improve milk manufacture.
6. Antiseptic
7. Relieves Sore Throats & Laryngitis
As mentioned above, Anise is an expectorant, therefore it assists with problems such as sore throats and laryngitis. It can also assist with Asthma, Bronchitis, Influenza, Pneumonia and Sinusitis.
8. Cure Sleeplessness
When dealing with Insomnia, Anise is a good remedy to use before you go to bed.
9. Alleviates Nausea
As mentioned above, Anise can assists with digestive problems, including Nausea and vomiting.
10. Relives Head-aches & Migraines
When applied to the fore-head, temples and neck, Anise can assist with Head-aches and Migraines.
The Nutritional Value for 100 grams of Anise is as follows:
23 cal

Dietary fiber: 1.00 grams

Protein: 1.8 grams

Carbohydrates: 3.35 grams

Total fat: 1.07 grams

Cholesterol: 0 mg
If you enjoyed this post and would like to see more, you can also find us on Twitter, Facebook, Pinterest and Instagram. Check our pages out, and don't forget to Follow us and Subscribe to our Newsletter, to keep up-to-date on Everything you need to know for Eating Healthy & Living Fit!