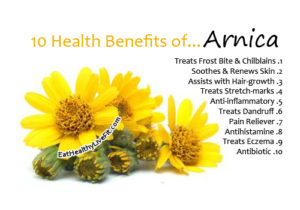 As this is a medicinal plant, you should always consult your health-care practitioner, when choosing to use it as a herbal remedy.
1. Anti-inflammatory
Arnica is a great anti-inflammatory. It is beneficial for Arthritis, Swelling, Strains and Sprains.
2. Pain Reliever
As it is a great Anti-inflammatory, Arnica is also great as a pain reliever. It helps with the pain of Arthritis, Strains and Sprains of muscles and ligaments and also Traumatic pains, from surgery or an accident.
3. Antihistamine
Insect bites and Stings can be treated with a homeopathic dose of Arnica. Bruising, swelling and soreness from these bites and stings can also be treated with Arnica, as mentioned above.
4. Treats Eczema
Arnica also has anti-bacterial properties which make it great to use on skin topically for skin irritations, such as Acne, Burns, Dry and Cracked Lips, Eczema, Inflamed nostrils. It is usually recommended however, to not place creams directly onto broken or bleeding skin.
5. Treats Frost Bite & Chilblains
Extracts from Arnica, have been used in ointments and creams that treat frost bite, and chilblains.
6. Soothes & Renews Skin
As mentioned above, Arnica is great for the skin itself. It is great for soothing and renewal skin, from injury and post skin irritations.
7. Treats Stretch-marks
Rubbing Arnica into the skin can reduce the severity and appearance of stretch-marks. Women during pregnancy may use Arnica for their stretch-marks.
A known use for Arnica is as a hair-tonic, for 8. Assisting with Hair-growth and 9. Treating Dandruff. This is because of the blood-circulation simulating properties that Arnica has, as well as its Anti-Bacterial properties.
10. Antibiotic
If you enjoyed this post and would like to see more, you can also find us on Twitter, Facebook, Pinterest and Instagram. Check our pages out, and don't forget to Follow us and Subscribe to our Newsletter, to keep up-to-date on Everything you need to know for Eating Healthy & Living Fit!