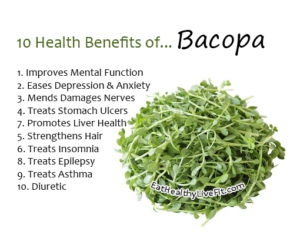 As this is a medicinal plant, you should always consult your health-care practitioner, when choosing to use it as a herbal remedy.
Bacopa's Health Benefits include;
1. Diuretic
In some countries, Bacopa is commonly used as a diuretic.
2. Strengthens Hair
Bacopa oils have been used for many years to promote the growth of hair. It also treates all other hair issues, such as split-ends and dandruff.
Bacopa is used to treat mind and nerve related issues. Two of these are 3. Treating Insomnia and 4. Treating Epilepsy. Adding the signals that go hay-wire in Epileptic seizures, can be aided with the use of Bacopa and hence reduce seizures.
5. Treats Asthma
Bacopa has been found to have anti-asthmatic properties, and assist with other respiratory issues.

6. Promotes Liver Health
Your liver detoxifies nasties out of your body. Bacopa has been shown to be useful in protecting the liver from past and future toxins, and promoting the health of the liver in general.

7. Improves Mental Function
Within Bacopa, there are Bacosides. These improve mental function and cognitive functions, including assisting with learning and memory.

8. Eases Depression & Anxiety
Depression and Anxiety sufferers could be assisted with taking Bacopa. It boosts serotonin and acetlycholine, which balance your mood and reduce anxious and depressive feelings and symptoms.

9. Treats Stomach Ulcers
As Bacopa stimulates gastrointestinal mucuses, which protects the lining of the stomach, it can help Ulcer sufferers.

10. Mends Damages Nerves
Bacopa is great for healthy nerve production. It also mend nerves if they are damaged.
If you enjoyed this post and would like to see more, you can also find us on Twitter, Facebook, Pinterest and Instagram. Check our pages out, and don't forget to Follow us and Subscribe to our Newsletter, to keep up-to-date on Everything you need to know for Eating Healthy & Living Fit!