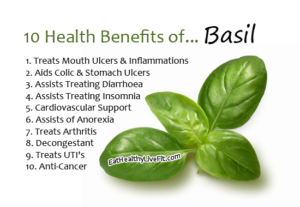 As this is a medicinal plant, you should always consult your health-care practitioner, when choosing to use it as a herbal remedy.
Basil's Health Benefits include;
1. Assists Treating Colic & Stomach Ulcers
If you are suffering from any stomach problems, such as colic and ulcers, Basil can rescue you. The other stomach issues that Basil can assist with are; constipation and stomach-aches as it can relax the stomach.

2. Assists Treating of Anorexia
For a person suffering from Anorexia, and malnutrition, Basil is a great herb to consume.

3. Assists Treating of UTI's
A mixture of Nettle and Basil tea can be quite beneficial for alleviating a Urinary Tract Infection (UTI). Basil is Antibacterial, Immune Boosting, Antiseptic. It also reduces fevers and is a mild sedative. With all those qualities, it can rid someone of a UTI quite well. Basil can also eliminate Kidney Stones.

4. Assists Treating of Diarrhoea
Basil in a concentrated form, can kill the bacteria that can cause Diarrrhoea. Even washing foods in a solution that contains this concentrated basil can rid the bacteria and stop it from ever entering your system.

5. Assists Treating of Insomnia
Basil has been used to treat insomnia and other problematic issues that can be induced by depression and anxiety.

6. Treats Ulcers & Inflammations of Mouth
Basil has Anti-Inflammatory and Anti-Bacterial properties, and therefore is great for treating mouth ulcers and inflammations.
7. Assists Treating Arthritis
As mentioned above, Basil has Anti-Inflammatory properties. This is beneficial for aiding arthritis sufferers, as it is the inflammation of the joints.
8. Decongestant
Coughs and colds can incur chesty congestion. Basil is a decongestant and can rid the symptoms and the suffering from coughs, colds and even other respiratory problems.
9. Cardiovascular Support
Adding Basil into your diet can be great for your heart health and Cardiovascular Support System. Basil contains Vitamin A, which is a powerful anti-oxidant that prevents oxidation of cholesterol in the blood-stream. Basil also contains Magnesium which aids of the function of the muscles around the heart and throughout the body's cardiovascular system. Therefore Basil is a great herb to include in your diet if you want to prevent Heart-Attacks and Strokes.
10. Anti-Cancer
Basil is full of Anti-Oxidants, and is full of free-radical, cancer cell fighting powers.
The Nutritional Value for 100 grams of Basil is as follows:
1cal

Dietary fiber: 0.20 grams

Protein: 0.13 grams

Carbohydrates: 0.23 grams

Total fat: 0.03 grams

Cholesterol: 0 mg
If you enjoyed this post and would like to see more, you can also find us on Twitter, Facebook, Pinterest and Instagram. Check our pages out, and don't forget to Follow us and Subscribe to our Newsletter, to keep up-to-date on Everything you need to know for Eating Healthy & Living Fit!