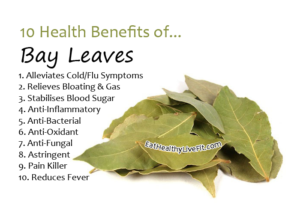 As this is a medicinal plant, you should always consult your health-care practitioner, when choosing to use it as a herbal remedy.
Bay Leaves' Health Benefits include;
Bay Leaves contain 1. Anti-fungal and 2. Anti-bacterial properties. This makes them great for curing skin infections. And when used topically, they can alleviate painful cuts, bruises and bites.
3. Anti-inflammatory and 4. Pain Killer
The anti-inflammatory properties in Bay Leaves alleviates pains from arthritis, sprains and strains, as well as general aches and pains.
5. Anti-oxidant
The anti-oxidants in Bay Leaves are beneficial for the whole body. Vitamin C is rich in Bay Leaves and therefore they are great for boosting the immune system. Vitamin A is also sourced in Bay Leaves, which adds a mucus membrane and skin health boosting quality. They are also rich in other Vitamins and Minerals, that assist with your overall health of the nerve function and metabolism regulation.
6. Stabilises Blood Sugar
Bay Leaves improve insulin function and hence help stabilises Blood-Sugar Levels and assist Type 2 Diabetes sufferers.
7. Astringent
Bay leaves have diuretic, astringent and appetite stimulant properties.
8. Relieves Bloating & Gas
Bay Leaves can be used to aid stomach problems such as Bloating and Gas.
9. Reduces Fever
A fever can be reduced by infusing Bay Leaves. They induce sweating, which kills a fever and reduces uncomfortable symptoms.
10. Alleviates Cold/Flu Symptoms
As mentioned above, Bay Leaves can reduce a fever, which is one of the symptoms of a cold and flu. Bay Leaves reduce the symptoms of coughs, colds, bronchitis and chest infections.
The Nutritional Value for 100 grams of Bay Leaves is as follows:
2cal

Dietary fiber: 0.45 grams

Protein: 0.05 grams

Carbohydrates: 0.45 grams

Total fat: 0.05 grams

Cholesterol: 0 mg
If you enjoyed this post and would like to see more, you can also find us on Twitter, Facebook, Pinterest and Instagram. Check our pages out, and don't forget to Follow us and Subscribe to our Newsletter, to keep up-to-date on Everything you need to know for Eating Healthy & Living Fit!