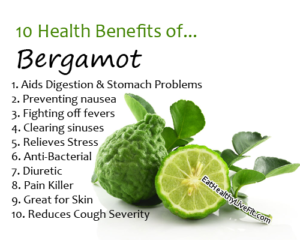 As this is a medicinal plant, you should always consult your health-care practitioner, when choosing to use it as a herbal remedy.
Bergamot's Health Benefits include;
1. Aids digestion and stomach problems
Bergamot is great for the digestion. It assists with nutrient absorption, processing sugars and therefore is great for stabilising blood-sugar levels. It can also rid intestinal parasites.
2. Preventing nausea
Bergamot aids the digestion, as mentioned above. It can alleviate the pain and discomfort from colic and will also assist with preventing nausea.
3. Fighting off fevers
As Begamot increases sweating (from its increase in metabolism), it therefore assists with the reduction in body temperature and fights off a fever.
4. Clearing sinuses
Along with a large list of other essential oils, Bergamot oil is used (in conjunction with other oils), to clear sinuses and related infections.
5. Relieve Stress
Used in the form of aromatherapy and by ingestion, Bergamot can be used as a stress-reliever and anti-depressant. Bergamot helps with circulation around the body, including energy and therefore helps process stress and depression, to leave your body.
6. Anti-Bacterial
The essential oil of Bergamot can be used for anti-bacterial purposes, such as cleaning as well as in deodorants. It is also has a very pleasant smell, which means when cleaning or using as a deodorant, it will produce a fresh smell.
7. Increasing urine output
It can also cure infections of the Colon, Intestines, Urinary tract and Kidneys.
8. Pain Killer
Bergamot assists with reducing pains associated with head-aches and sprains and injuries. This is possible from certain components in Bergamot, that stimulate the secretion of hormones that reduce pain.
9. Great for Skin
Bergamot can also be used to help dis-infect and heal wounds, minor burns, and cracked or damaged skin.
10. Reducing severity of coughs
As Bergamot has anti-bacterial, anti-viral and anti-biotic properties, it is great for reducing the severity of a cough or cold.
If you enjoyed this post and would like to see more, you can also find us on Twitter, Facebook, Pinterest and Instagram. Check our pages out, and don't forget to Follow us and Subscribe to our Newsletter, to keep up-to-date on Everything you need to know for Eating Healthy & Living Fit!