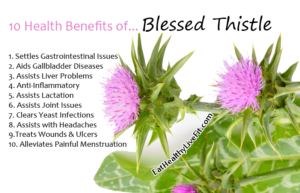 As this is a medicinal plant, you should always consult your health-care practitioner, when choosing to use it as a herbal remedy.
Blessed Thistle's Health Benefits include;
1. Settles Gastrointestinal Problems and 2. Cures wind & Colic
Blessed Thistle is known to help stimulate gastric acids and assist with flatulence and indigestion. It is used by herbalists to create digestive tonics.
3. Assists Liver Problems and 4. Beneficial in curing Gallbladder Diseases
Taking Blessed Thistle can stimulate bile production, assisting in the detoxification of the Liver. It is also beneficial in curing Gallbladder Diseases.
5. Reduces Excess Mucus and 6. Assists Jaundice and Rheumatism
As it has Anti-inflammatory properties, it can reduce excess mucus in the body. It's anti-inflammatory properties also mean it can assist with fighting infections. The pain and inflammation from Jaundice and Rheumatism can also be alleviated by the anti-inflammatory properties Blessed Thistle.

7. Alleviates Painful Menstruation
It can be used for alleviating painful menstruation, and PMS-related symptoms.
8. Assists with Lactation
Blessed Thistle can be taken to assist with lactation, along with other herbs such as Alfalfa, Fennel, Fenugreek and Stinging Nettle.

9. Externally Treats Wounds & Ulcers and 10. Clears Yeast Infections
It is used to treat wounds and ulcers, externally due to the astringent properties. It can also be used to clear the blood and help remedy yeast infections.
If you enjoyed this post and would like to see more, you can also find us on Twitter, Facebook, Pinterest and Instagram. Check our pages out, and don't forget to Follow us and Subscribe to our Newsletter, to keep up-to-date on Everything you need to know for Eating Healthy & Living Fit!