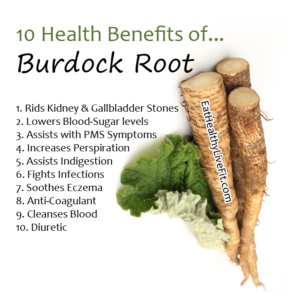 As this is a medicinal plant, you should always consult your health-care practitioner, when choosing to use it as a herbal remedy.
Burdock Root's Health Benefits include;
1. Lowers Blood-Sugar levels
Burdock Root contains Inulin, which is a dietary fiber. It has been known to assist in reducing the development, as well as reducing the severity of diabetes-related symptoms, including stabilising blood-sugar levels.
2. Assists with PMS Symptoms
100 grams of Burdock Root can provide you with 1/10 the daily recommended amount of B6. B6 creates a healthy nervousness system and brain function. This means that it can be used help control PMS-Related symptoms for some women.
3. Soothes Eczema
Burdock Root assists with the treatment of skin issues, such as Eczema, Psoriasis and Dry Skin.
5. Increases Perspiration
Burdock Root has promotes sweating/perspiration. This is just one of the ways that Burdock can eliminate toxins from the body.
4. Diuretic and 6. Cleansing the Blood
It contains diuretic properties that cleanse the blood through urination.
7. Assists Indigestion
It can be used as a reliever of gas and indigestion.
8. Fights Infections
Burdock contains great doses of Vitamin C and Vitamin E (anti-oxidants), which eliminate free-radicals. Therefore it is a great immune booster and fights/prevents infections in the body. It can also be shown to lower the risk of cancer and assist with "proper" and "healthy" growth of cells and tissues.
9. Anti-Coagulant
Burdock Root needs to be taken with supervision, as it is an anti-coagulant. This can be good in some cases, if blood needs to be thinned, but if blood is already thin, which some other medication can do, then Burdock Root is not recommended. For this reason, and many other reasons, medical history and knowledge of other medications and supplements should always be given to the health-care practitioner looking after your health.
10. Rids Kidney & Gallbladder Stones
As Burdock root is a "Flushing out of your system" herb, it can be used to rid Kidney and Gallbladder Stones.
If you enjoyed this post and would like to see more, you can also find us on Twitter, Facebook, Pinterest and Instagram. Check our pages out, and don't forget to Follow us and Subscribe to our Newsletter, to keep up-to-date on Everything you need to know for Eating Healthy & Living Fit!