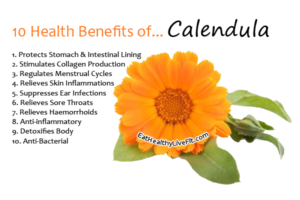 As this is a medicinal plant, you should always consult your health-care practitioner, when choosing to use it as a herbal remedy.
Calendula's Health Benefits include;
1. Anti-inflammatory
Calendula is used for many inflammation problems, such as 2. Relieving Skin Inflammations from infections, injuries, stings, bites, dermatitis and psorisis.

3. Anti-Bacterial
Calendula can be used to rid bacterial infections, such as in cuts and wounds.

4. Suppresses Ear Infections Symptoms
In a herbal mixture, Calendula can calm pain from ear infections, as well as other symptoms.

5. Stimulates Collagen Production
Calendula is great for the production of collagen. It assists with stretch-marks as it also repairs the skin itself.

6. Relieves Sore Throats
The alleviation of Sore throats, mouth infections, inflammations and respiratory problems, including coughs and colds, can all be assisted with Calendula.

7. Detoxifies Body and 8. Protects Stomach & Intestinal Lining
Calendula can help detoxify the body as it assist the function of the gallbladder. This can assist with the overall digestion within the body, as it helps eliminate unwanted matter out of the body. Calendula also protects the digestive lining.

9. Regulates Menstrual Cycles
It can help regulate the menstrual cycle and also help with painful periods.

10. Aids Haemorrhoids Relief
As it has anti-inflammatory properties, it can also help relieve someone of Haemorrhoids and proctisis.
If you enjoyed this post and would like to see more, you can also find us on Twitter, Facebook, Pinterest and Instagram. Check our pages out, and don't forget to Follow us and Subscribe to our Newsletter, to keep up-to-date on Everything you need to know for Eating Healthy & Living Fit!