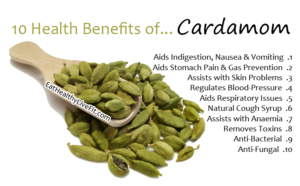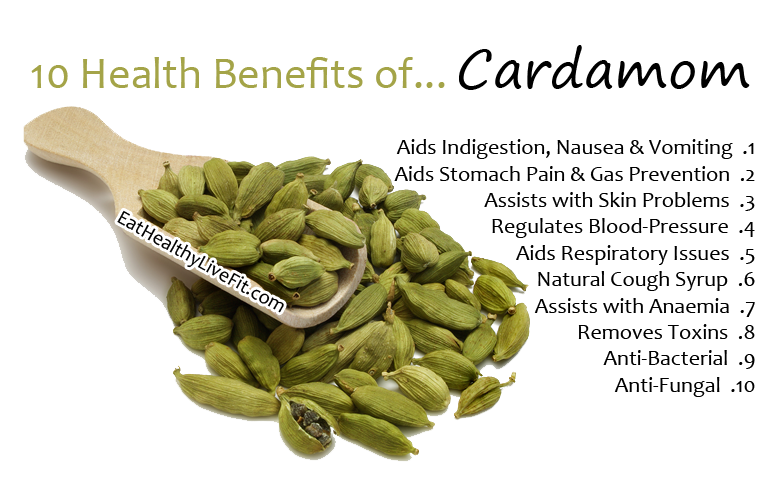 As this is a medicinal plant, you should always consult your health-care practitioner, when choosing to use it as a herbal remedy.
Cardamom's Health Benefits include;
1. Assists Indigestion, Nausea & Vomiting as well as 2. Assists Stomach Pain & Gas Prevention
Cardamom is a great spice for overall digestion. It is related to ginger and therefore has many of its properties that are beneficial for digestion, nausea, stomach pains, gas , bloating, heartburn, appetite loss and more!
3. Substitute for Cough Syrup and 4. Assists Respiratory Issues
It is a great substitute for your typical "cough syrup". It assists with cold and flu symptoms as well as being used for bronchitis and coughs.
5. Detoxifies Excess caffeine from Body
Cardamom is a great diuretic. This means is a great way to detoxify excess caffeine, as well as other nasties out of your body.
6. Assists with Skin Problems
Green cardamom's great anti-oxidant and free-radical detoxing power cleanse the body of toxins. Because our skin is the largest organ in our body, it can show up any problems and toxins we have lurking inside. Once the body is rid of toxins and other nasties, the health of our skin improves. The improvements in the skin, can also be seen in hair too.
7. Assists Blood-Pressure Regulation
It is rich in fibre as well as being a diuretic, so it is great for lowering blood-pressure. It also is preventative of blood clotting where it is dangerous, such as in the artery walls.
8. Anti-Fungal and 9. Anti-Bacterial
Cardamom has anti-microbial/anti-fungal/anti-bacterial properties. It is used for fighting infections, and inhibiting spread of some disease causing microbes, that can cause food poisoning.
10. Assists with Anaemia
Cardamom is a rich source in Iron and Manganese, making it great for anaemia sufferers. 100g pods contain 13.97g of Iron, which is 175% the "Daily Required Levels".
If you enjoyed this post and would like to see more, you can also find us on Twitter, Facebook, Pinterest and Instagram. Check our pages out, and don't forget to Follow us and Subscribe to our Newsletter, to keep up-to-date on Everything you need to know for Eating Healthy & Living Fit!