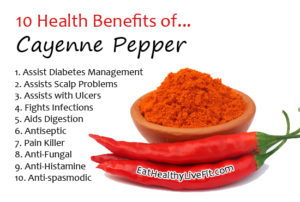 As this is a medicinal plant, you should always consult your health-care practitioner, when choosing to use it as a herbal remedy.
Cayenne Pepper's Health Benefits include;
1. Antiseptic
Cayenne pepper disinfects cuts, wound and lacerations, and makes a great Antiseptic.
2. Aids digestion and is an 3. Anti-spasmodic
Cayenne has anti-spasmodic properties, which make it great for easing upset stomachs and coughs.
4. Anti-Histamine/Anti-Inflammatory
The Anti-histamine and anti-inflammatory properties of Cayenne makes it great for allergies.
5. Pain Killer
Cayenne can trick the brain into thinking that there is pain somewhere else in your body and therefore the original pain you may have, such as a migraine, can fooled into disappearing.
6. Fights Infections
Cayenne Pepper is a natural antibiotic, therefore it is a great fighter of infections, including coughs and colds etc.
7. Anti-Fungal and 8. Assists Scalp Problems
Cayenne Peppers have anti-fungal properties, which also mean they are good for assisting with Scalp Problems.
9. Assist Diabetes Management
The capsaicin in Cayenne Pepper, can be used in the treatment of diabetes.
10. Assists with Ulcers
Cayenne is also an anti-irritant. It can assist with relieving Ulcers as well as Sore Throats.
If you enjoyed this post and would like to see more, you can also find us on Twitter, Facebook, Pinterest and Instagram. Check our pages out, and don't forget to Follow us and Subscribe to our Newsletter, to keep up-to-date on Everything you need to know for Eating Healthy & Living Fit!