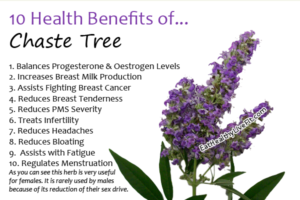 As this is a medicinal plant, you should always consult your health-care practitioner, when choosing to use it as a herbal remedy.
Chaste Tree has been used for many centuries. It has been used commonly in natural medicine for many female health issues. This is because of its effects regulating hormonal functions. Below are all the great effects that Chaste Tree can have for females.

Chaste Tree Berry's Health Benefits include;
1. Reduces PMS Severity
2. Increases Breast Milk Production
3. Treats Infertility
4. Assists Fighting Breast Cancer
5. Balances Progesterone & Oestrogen Levels
6. Reduces Breast Tenderness
7. Reduces Headaches
8. Reduces Bloating
9. Assists with Fatigue
10. Regulates Menstruation
NOTE: As you can see this herb is very useful for females. It is rarely used by males because of its reduction of their sex drive.
If you enjoyed this post and would like to see more, you can also find us on Twitter, Facebook, Pinterest and Instagram. Check our pages out, and don't forget to Follow us and Subscribe to our Newsletter, to keep up-to-date on Everything you need to know for Eating Healthy & Living Fit!