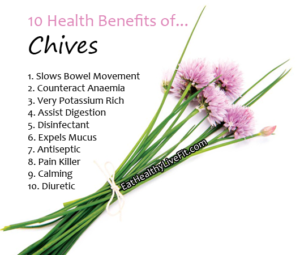 As this is a medicinal plant, you should always consult your health-care practitioner, when choosing to use it as a herbal remedy.
Chives' Health Benefits include;
1. Assist Digestion and 2. Calming
Similar to garlic, Chives can ease and calm digestive issues. They are also a form of natural antibiotic, so they will eliminate a range of bad bacteria which further assists with the digestive function.
3. Slows Bowel Movement
Chives are known to be effective in treating diarrhea and intestinal infections.
4. Expels Mucus
Chives reduce inflammation and expel mucus from the body. They are filled with Vit C and K, which are 2 natural anti-inflammatories.
5. Antiseptic and 6. Disinfectant
The compounds found in Chives, have great antiseptic and disinfectant properties.
7. Pain Killer
As Chives have strong Anti-microbial, Anti-oxidant and Anti-inflammatory properties, they make for a great pain killer, for things such as sore throats and burns.
8. Counteract Anaemia
Chives are a great source of Iron, as well as many other nutrients, making them great for combating Anaemia.

9. Very Potassium Rich
Chives are rich in Potassium. The Potassium and Allicin (which reduces bad cholesterol), combined are beneficial for heart health.
10. Diuretic
Chives are great at detoxification. The Diuretic properties as well as the anti-bacterial and anti-free-radical properties make a great combination to get rid of unwanted material and waste from the body.

If you enjoyed this post and would like to see more, you can also find us on Twitter, Facebook, Pinterest and Instagram. Check our pages out, and don't forget to Follow us and Subscribe to our Newsletter, to keep up-to-date on Everything you need to know for Eating Healthy & Living Fit!