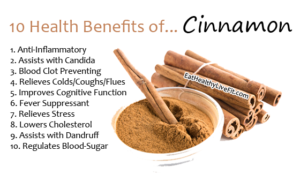 As this is a medicinal plant, you should always consult your health-care practitioner, when choosing to use it as a herbal remedy.
Cinnamon's Health Benefits include;
1. Anti-Inflammatory
The anti-oxidants in Cinnamon, have Anti-inflammatory properties which is beneficial for all throughout the body where inflammation/swelling may occur.
2. Blood Clot Preventing
Cinnamon has blood-thining properties, which is why it is a blood-clot preventer. Because of this fact, cinnamon should always be had with caution if a person is already on any blood-thining medication, or naturally has thinner blood.

3. Assists with Candida
A few studies were completed a few years back on sufferers of intestinal candida, using cinnamon oil. The result of using the oil was the candida was nearly all eradicated after 2 weeks. This is most likely due to its anti-fungal properties. More research is still being done.

4. Assists with Dandruff
When used topically on the scalp/hair, Cinnamon, along with an oil base, such as olive oil, can assist with getting rid of dandruff.

5. Lowers Cholesterol
Cinnamon can reduce the levels of Bad (LDL) Cholesterol. A studies has shown that it can increase the good (HDL) Cholesterol Levels.

6. Relives Colds/Coughs/Flues and 7. Fever Suppressant
Cinnamon has been used for centuries as a remedy for the common cold, cough or flu. Mixed with boiling water, and any herbal or green tea of choice (or by itself in the water), it can make a great medicinal tea for colds its symptoms, such as coughs and sore throats and a high temperature/fever.

8. Relieves Stress
As Cinnamon can reduce blood pressure, it can also reduce stress, in the body and in mind. The scent of Cinnamon can also relieve migraines, as well as frustration.

9. Regulates Blood-Sugar and assist with Diabetes
Cinnamon can reduce insulin resistance in Type 2 Diabetes sufferers and thus the insulin can bring down sugar levels to a "regular" level. Cinnamon can also decrease the amount of glucose that enters the bloodstream in the first place.

10. Improves Cognitive Function
Further studies are being made, however Cinnamon can help with Alzheimer's and Parkinson's diseases. Cinnamon can help Alzheimer's sufferers as there are 2 compounds which inhibit tau (a protein) in the brain from building up. Cinnamon can assist with Parkinson's as it helps protect neurons and improve motor function.
If you enjoyed this post and would like to see more, you can also find us on Twitter, Facebook, Pinterest and Instagram. Check our pages out, and don't forget to Follow us and Subscribe to our Newsletter, to keep up-to-date on Everything you need to know for Eating Healthy & Living Fit!