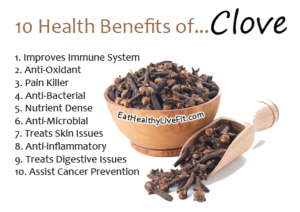 As this is a medicinal plant, you should always consult your health-care practitioner, when choosing to use it as a herbal remedy.
Clove Health Benefits include;
1. Improves Immune System
The compounds in Clove assist a health immune system, by increasing the white blood-cell count.
2. Pain Killer and 3. Anti-Inflammatory
The presence of Eugenol in Clove, reduces pain and inflammation in the body.
4. Anti-Bacterial and 5. Anti-Microbial
Tests done on Human Pathogens have shown that Clove is potent enough to kill these pathogens. Clove is also an Anti-Microbial which is used for oral health – fighting infections in the mouth.
6. Treats Digestive Issues
Clove can assist the digestion, calming flatulence and restoring the appetite. Clove stimulate the secretion of digestive enzymes.
7. Treats Skin Issues
Clove oil is used by Natural Health-care Practitioners and Beauticians for skin issues. These include; treating and removing acne, curing blemishes and scaring and treating rashes and wounds.
8. Assist Cancer Prevention
The Chemo-Preventative and Anti-carcinogenic properties of Cloves mean that it is of high interest in the medical/healthcare community. It has been shown that Clove has been helpful in controlling cancer, such a lung cancer in early stages.
9. Anti-Oxidant
The Anti-oxidants in Clove protect organs from free radicals, especially in the liver. Overtime the metabolism will increase free-radical production and decrease of anti-oxidants in the liver. Clove is great for counteracting this problem.
10. Nutrient Dense
Cloves are full of Nutrients. It contains;

Vitamins       % of Daily Value per 100g
B6                       30%
C                         135%
E                         43%
K                         177%
Minerals       % of Daily Value per 100g
Calcium               65%
Iron                      48%
Magnesium        66%
Manganese         1502%
Nutrients        % of Daily Value per 100g
 Calories                16%
 Carbs                    20%
 Dietary Fibre      137%
 Fat                        31%

If you enjoyed this post and would like to see more, you can also find us on Twitter, Facebook, Pinterest and Instagram. Check our pages out, and don't forget to Follow us and Subscribe to our Newsletter, to keep up-to-date on Everything you need to know for Eating Healthy & Living Fit!