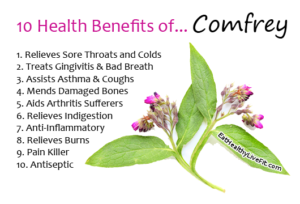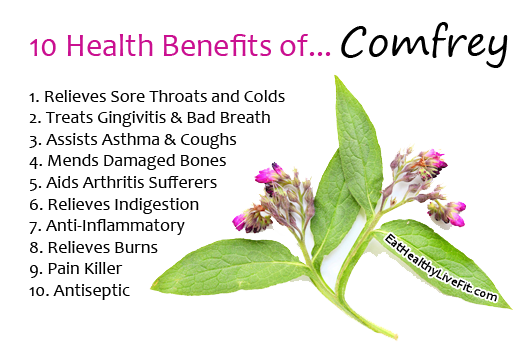 As this is a medicinal plant, you should always consult your health-care practitioner, when choosing to use it as a herbal remedy.
Comfrey Health Benefits include;
1. Anti-Inflammatory and 2. Pain Killer and 3. Assists Mending Damaged Bones and 4. Aids Arthritis Sufferers
Comfrey is commonly used to heal bones and skin, when used topically in a poultice. It has properties that can help to heal pain associated with inflammations, sprains/strains, bruising and pulled muscles and ligaments.
5. Antiseptic and 6. Relieves Burns
Comfrey can be used to heal/mend and clean skin. It heals burns, rashes, cuts and insect bites, when used topically in a poultice.
7. Relieves Indigestion and 8. Assists Asthma & Coughs and 9. Relieves Sore Throats and Colds and 10. Treats Gingivitis & Bad Breath
Used internally, Comfrey can relieve indigestion and stomach and bowel problems. It can also aid respiratory issues including Asthma and coughs and other cold symptoms, such as sore throats. And along with sore throats, it can also be beneficial orally for treating Gingivitis and Bad Breath.
Comfrey has had bad publicity in the past, but when taken properly and with proper supervision from a health-care professional, and if you follow their instructions, it can be quite helpful for the body.
If you enjoyed this post and would like to see more, you can also find us on Twitter, Facebook, Pinterest and Instagram. Check our pages out, and don't forget to Follow us and Subscribe to our Newsletter, to keep up-to-date on Everything you need to know for Eating Healthy & Living Fit!