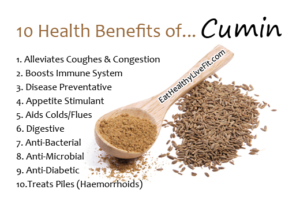 As this is a medicinal plant, you should always consult your health-care practitioner, when choosing to use it as a herbal remedy.
Cumin's Health Benefits include;
1. Aids Colds/Flues
2. Alleviates Coughing & Congestion
3. Anti-Bacterial
4. Boosts Immune System
5. Anti-Microbial
6. Disease Preventative
Many of Cumin's benefits are associated with Immune Boosting power. It rids colds/flues and associated respiratory congestion from them. Many diseases are caused by microbes and bacteria, which can be assisted with consuming Cumin.

7. Appetite Stimulant
8. Digestive
9. Treats Piles (Haemorrhoids)
Cumin can assist with digestive problems such as stimulating appetite and relieving constipation, which can help in the treating of Piles (Haemorrhoids).
10. Anti-Diabetic
Along with many other herbs and spices, cumin has been know to assist with diabetic issues such as hypoglycemia. It has also been used to decrease glucosuria, a high concentration of glucose in the urine.

If you enjoyed this post and would like to see more, you can also find us on Twitter, Facebook, Pinterest and Instagram. Check our pages out, and don't forget to Follow us and Subscribe to our Newsletter, to keep up-to-date on Everything you need to know for Eating Healthy & Living Fit!