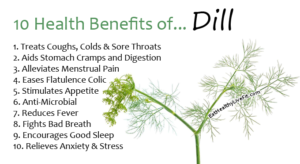 As this is a medicinal plant, you should always consult your health-care practitioner, when choosing to use it as a herbal remedy.

Dill's Health Benefits include;
1. Fights Bad Breath
Dill is a great Breath-freshener! The essential oil in Dill is a natural germicide and dis-infective. Infections and microbes in the mouth, can be rid from using Dill oil.

2. Treats Coughs Colds & Sore Throats
Dill is a anti-congestive, and an antihistamine. It can help with allergies and congestion that causes coughs and sore throats.

3. Aids Stomach Cramps and Digestion and 4. Reduces Flatulence and Easing Colic
Dill is a carminative, meaning it helps pass gas/flatulence through the body. It can calm the whole digestive system and assist with stomach cramps.

5. Alleviates Menstrual Pain
Dill can help regulate menstruation and alleviate the pain associated with periods.
6. Stimulates Appetite
The oil in Dill, stimulates bile and digestive juices. This is stimulates the appetite. The oil also relieves constipation.
7. Anti-Microbial
Dill rids microbial infections throughout the body, and on the skin in wounds.
8. Relieves Anxiety & Stress
The calming effect of dill is not just good for digestion, but good for calming nerves, during anxiety and stress.

9. Encourages Good Sleep
The essential oils in Dill can also act as a sedative and hypnotic. Therefore it is great to encourage a good sleep.
10. Reduces Fever

If you enjoyed this post and would like to see more, you can also find us on Twitter, Facebook, Pinterest and Instagram. Check our pages out, and don't forget to Follow us and Subscribe to our Newsletter, to keep up-to-date on Everything you need to know for Eating Healthy & Living Fit!