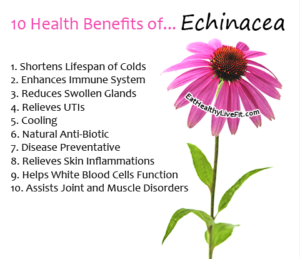 As this is a medicinal plant, you should always consult your health-care practitioner, when choosing to use it as a herbal remedy.
Echinacea's Health Benefits include;
Echinacea is very well known as a cold and flu symptom preventing herb. This is because it is a immune boosting herb. It fights all infections, is a natural anti-biotic, reduces fevers. It is also a natural anti-inflammatory which assists with skin and joint issues, called by inflammations.
1. Shortens Lifespan of Colds
2. Enhances Immune System
3. Reduces Swollen Glands
4. Help White Blood Cells Fight Diseases
5. Relieves Urinary Tract Infections
6. Cooling – Lowering of body temperature from fevers
7. Natural Anti-Biotic
8. Disease Preventative
9. Relieves Acne, Eczema, and Inflammations
10. Assists Joint and Muscle Disorders
If you enjoyed this post and would like to see more, you can also find us on Twitter, Facebook, Pinterest and Instagram. Check our pages out, and don't forget to Follow us and Subscribe to our Newsletter, to keep up-to-date on Everything you need to know for Eating Healthy & Living Fit!