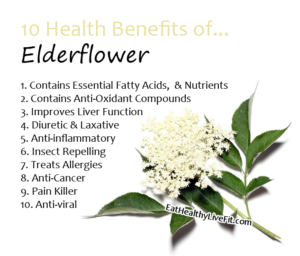 As this is a medicinal plant, you should always consult your health-care practitioner, when choosing to use it as a herbal remedy.
Elderflower is one of the oldest cultivated Herbs and has been used for over 4000 years for respiratory issues.
Elderflower's Health Benefits include;
1. Contains Essential Fatty Acids, Vit A, B1, B2, B3 and C, and Calcium
As mentioned above, Elderflower contains many essential vitamins and minerals.
2. Contains Anti-Oxidant Compounds and 3. Anti-Cancer
Elderflower is rich in bioflavonoids, which are anti-oxidants, and anti-cancer compounds.
4. Anti-inflammatory and 5. Anti-viral and 6. Treats Allergies such as Hayfever
Elderflower has been used for generations in many cultures for anti-inflammatory and antiseptic properties. It is most commonly used for cold, flues and allergies.
7. Diuretic & Laxative
Elderflower can also be used to increase urine production (Diuretic), to increase sweating (Diaphoretic), and improves the functions of bowels and waste removal (Laxative).
8. Pain Killer and 9. Insect Repelling
Topically, Elderflower can be used to rid pain and swelling in joints, and is also used to stop bleeding. It can also be used as an insect repellent topically.
10. Improves Liver Function
Elderflower assists with detoxification through the body, through sweating out liquids and eliminating metabolic wastes.
If you enjoyed this post and would like to see more, you can also find us on Twitter, Facebook, Pinterest and Instagram. Check our pages out, and don't forget to Follow us and Subscribe to our Newsletter, to keep up-to-date on Everything you need to know for Eating Healthy & Living Fit!