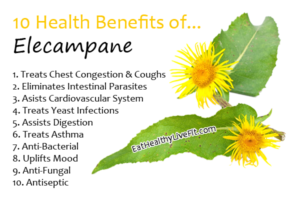 As this is a medicinal plant, you should always consult your health-care practitioner, when choosing to use it as a herbal remedy.
Elecampane's Health Benefits include;
1. Treats Bronchial Congestion & Coughs and 2. Treats Asthma
The oil of Elecampane has been used to ease bronchial congestion, coughs and also treatment of asthma. This is due to it anti-inflammatory properties.
3. Assists Digestion and 4. Eliminates Intestinal Parasites
Elecampane oil has been used for hundreds of years to settle stomachs and aid digestion. It can also improve nutrient intake and eliminate parasites, such as intestinal worms.
5. Uplifts your mood
The mild sedative effects of Elecampane, assist insomnia sufferers. It can also help to relax you, removing the tension and stress that can come from negative moods or feelings. It has been shown to assist with depression.
6. Aids Cardiovascular Treatment
As Elecampane improves respiratory function, it can assist with the cardiovascular system, by easing the stress on the heart from short/shallow breathing. It can also provide better pain treatment than than nitroglycerin.
7. Antiseptic and 8. Anti-Bacterial and 9. Anti-Fungal and 10. Treats Yeast Infections
Elecampane is an immune booster as it kills bad bacteria, and it's anti-fungal. As yeast infections are a fungal problem, Elecampane can assist with removing this type of infection. Applied topically it can be used as an antiseptic for wounds and cuts. When the oil is diffused into a room, it can clean the room and you of bacteria.
If you enjoyed this post and would like to see more, you can also find us on Twitter, Facebook, Pinterest and Instagram. Check our pages out, and don't forget to Follow us and Subscribe to our Newsletter, to keep up-to-date on Everything you need to know for Eating Healthy & Living Fit!