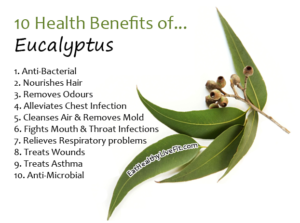 As this is a medicinal plant, you should always consult your health-care practitioner, when choosing to use it as a herbal remedy.
Eucalyptus's Health Benefits include;
Eucalyptus is very commonly known to help with respiratory issues, such as Asthma, coughs and colds. It is also a great antiseptic, disinfectant. It is a very multifaceted! Below is a full list.
1. Alleviates Chest Infection
2. Fights Mouth & Throat Infections

3. Relieves Respiratory problems
4. Treats Asthma
5. Anti-Bacterial
6. Removes Odours
7. Cleanses Air & Removes Mold
8. Treats Wounds
9. Anti-Microbial

10. Nourishes Hair
If you enjoyed this post and would like to see more, you can also find us on Twitter, Facebook, Pinterest and Instagram. Check our pages out, and don't forget to Follow us and Subscribe to our Newsletter, to keep up-to-date on Everything you need to know for Eating Healthy & Living Fit!