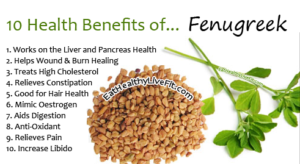 As this is a medicinal plant, you should always consult your health-care practitioner, when choosing to use it as a herbal remedy.
Fenugreek's Health Benefits include;
1. Aids Digestion
As Fenugreek improves metabolism, it is great for digestion.
2. Treats High Cholesterol
Fenugreek helps to reduce high (bad) cholesterol which reduces the risk of many heart related diseases, including heart-attack and stroke. It does this by using its high fibre content to scrap excess cholesterol off the arterial walls helping to allow blood to flow better.
3. Mimics Oestrogen
Fenugreek contains chemicals that mimic Oestrogen. This is beneficial for women during menopause or if a women is just generally low (prior to menopause) in Oestrogen and needs her hormones to be in balance. It can reduce mood swings, depression, cramps and abnormal hunger pains.

4. Works on the liver and pancreas Health
Fenugreek protect and repairs the liver from intoxication of alcohol. Fenugreek seeds also lower glucose levels in the blood on type-1 and type-2 diabetes patients
5. Relieves Constipation
As it is rich in Fibre, Fenugreek is great in relieving constipation.
6. Helps Wound & Burn Healing and 7. Anti-Oxidant and 8. Relieves Pain
Fenugreek is used to assist with the healing of wounds and burns, and associated pain, as it has anti-inflammatory properties and anti-oxidant properties.
9. Increase Libido
Fenugreek can be used to supplement for increasing Libido.
10. Good for Hair Health
Traditionally Fenugreek seeds have been used to promote better hair health and prevent hair loss in the future.
If you enjoyed this post and would like to see more, you can also find us on Twitter, Facebook, Pinterest and Instagram. Check our pages out, and don't forget to Follow us and Subscribe to our Newsletter, to keep up-to-date on Everything you need to know for Eating Healthy & Living Fit!