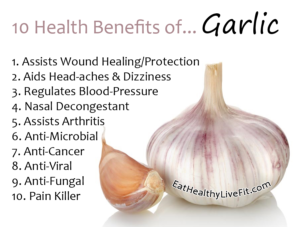 As this is a medicinal plant, you should always consult your health-care practitioner, when choosing to use it as a herbal remedy.
Garlic's Health Benefits include;
1. Anti-Microbial and 2. Anti-Viral and 3. Anti-Fungal and 4. Assists Wound Healing/Protection
Garlic is part of the Onion family, along with Shallots and leeks. This whole family have beneficial for overall immunity and health boosting. It is a anti-microbial, anti-viral, anti-fungal and assists with the healing of wounds as well as protecting the skin from damage.
5. Regulates Blood-Pressure
The active compounds in Garlic can reduce blood-pressure. Studies have shown that "aged garlic extract at doses of 600-1,500 mg was just as effective as the drug Atenolol at reducing blood pressure over a 24 week period". In some cases garlic in high doses can replace medication, but always check with your health-care practitioner before stopping any medication.
6. Assists Arthritis and 7. Pain Killer
The Garlic (onion) Family has been shown to assist arthritis and associated pain.
8. Anti-Cancer
Several studies have shown that increasing the amount of garlic intake can reduce the risk of cancers, such as colon, stomach, esophagus, pancreas, and breast cancer.
9. Nasal Decongestant
Nasal Decongestant and sinus infections can be rid quickly with Garlic. This is due to the anti-microbial/anti-viral and anti-fungal properties of Garlic. This help get rid of the infectious nasties in the sinuses and nasal passages.
10. Aids Head-aches & Dizziness and Vertigo
Head-aches can be relieved by using garlic in a few ways, such as drinking garlic infused water and using garlic water steaming. It can also rid the head-pain and dizziness associated with nasal congestion.
If you enjoyed this post and would like to see more, you can also find us on Twitter, Facebook, Pinterest and Instagram. Check our pages out, and don't forget to Follow us and Subscribe to our Newsletter, to keep up-to-date on Everything you need to know for Eating Healthy & Living Fit!